ISL 2017-18: Steve Coppell - 'Jamshedpur FC wants to attack teams as much as possible'
Indian Super League (ISL) outfit Jamshedpur FC loves to attack their opponents despite being labelled a 'defensive' team, coach Steve Coppell has claimed. 
Addressing the media of Jamshedpur FC's crucial away clash against Chennaiyin FC, Steve Coppell painted a positive picture with respect to his team's chances of qualifying to the play-offs despite having to face three tough games. 
"I certainly hope so (qualifying for the play-offs). Only time will tell. We have three very difficult games coming up," he remarked. "We are playing Chennaiyin FC, Bengaluru FC and FC Goa. So, three very very difficult matches.
"If you told me we would be in this position earlier in the season, I would have taken that. We want to be there (in the play-offs) by deserving to win. I hope we get there." 
The former Manchester City manager went on to dismiss suggestions that he sets his team out to defend. "We don't go out to be compact and defend. We work very hard at our defending but it's not a priority for us.
"We spend equally as much time attacking as we do defending. It is certainly not a game plan to defend at all costs. We want to attack teams as much as possible. We like to attack quickly. Our game strategy is to be as effective as we can be and after 15 games, it is difficult to change or incorporate anything new." 
Pointedly, he added, "It's a question of trying to be effective rather than aesthetically pleasing."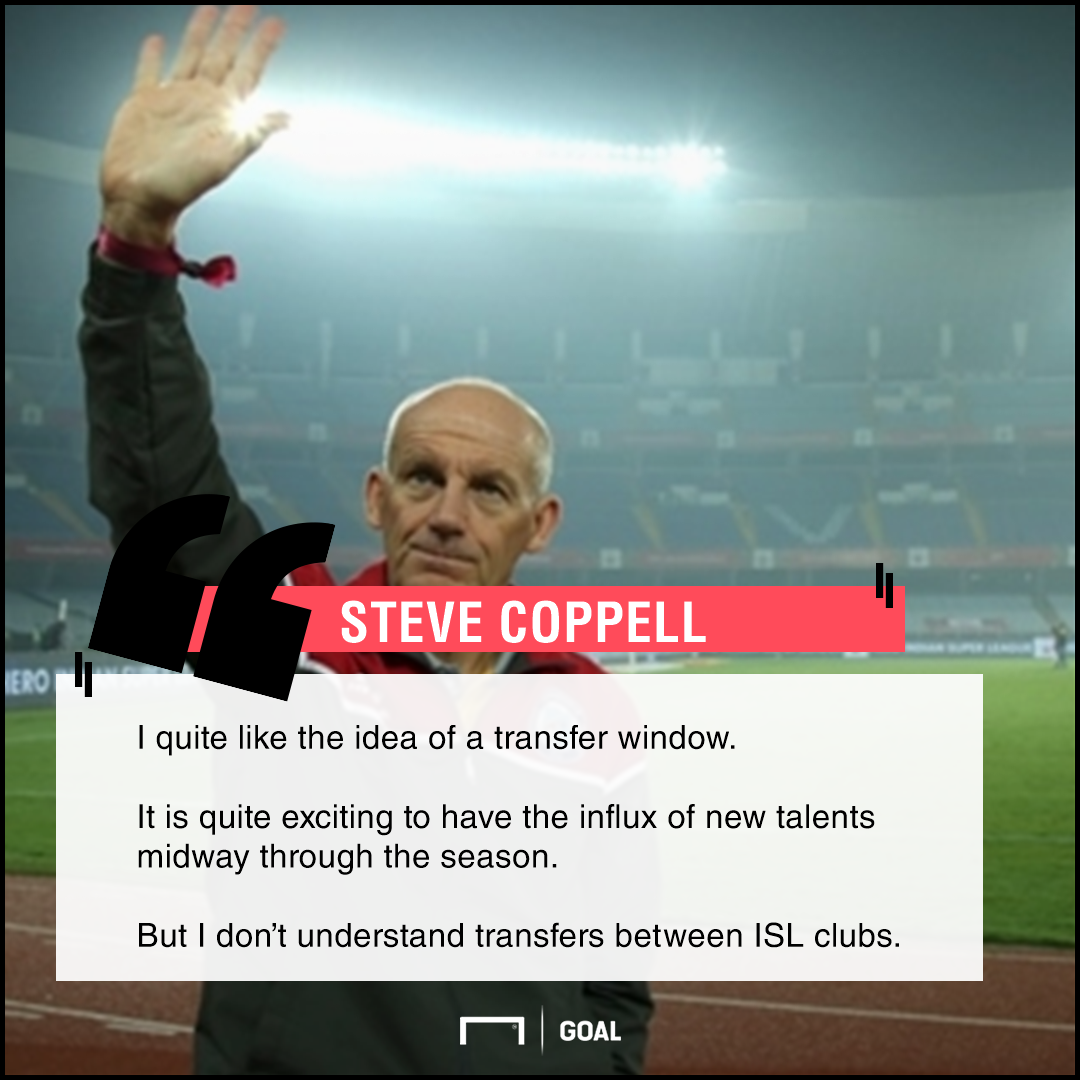 Wellington Priori, who was signed by Steve Coppell in the winter transfer window, has been very effective for them in the second half of the season. When asked if the transfer window was a boon to teams, Coppell expressed his amazement with ISL teams signing players from each other (FC Goa had signed Mark Sifneos who had left Kerala Blasters while Delhi Dynamos had loaned Manuel Arana from FC Goa). 
"I quite like the idea of a transfer window. If you select the same set of players and something is not working in the initial games, the window is very helpful. It is quite exciting to have the influx of new talents midway through the season.
"But I don't understand transfers between clubs. Bringing a player from another country is acceptable. I'm not so sure about (transfer between ISL clubs) and not so sure why it is allowed." 
The 62-year-old went on to criticise the nature of scheduling in the ISL, underlining the need to have a uniform gap between games. "I felt scheduling will be one of the biggest factors behind who will be successful in the league. We've had 8 or 9 days rest in between games and then we are playing 3-4 games in a week or so. It is the same for all teams. 
"Then to go 10-15 days without games and it is not good. We need to schedule better, taking into account all the travelling. Scheduling can't be more of a factor (in a team's success) than the performance of the team." 
Coppell also felt that while Sunday's result is important, it won't end their chances of qualifying for the play-offs. "Win, lose or draw, our season won't finish tomorrow. The result is significant for either team.  
"You only play well as you are allowed to. John's (Gregory) team will be equallly determined to give nothing away. It will be a challenging and fascinating game."