Indian Super League
ISL 2017-18: NorthEast United's Avram Grant: We shall continue the process we started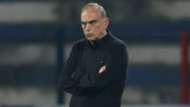 Ninth-placed NorthEast United will face FC Goa at the Jawaharlal Nehru Stadium in Goa.
In their first encounter with The Gaurs at Guwahati, the Highlanders had secured full points in a 2-1 result which saw Marcinho and Seiminlen Doungel find the net for their side.
Speaking to Goal ahead of the face-off on Saturday evening, Avram Grant commented, ''Every game starts 0-0; we had three points from the last game (at home) but now it is a completely different game. Goa are a very good team, it will be a tough one.''
In the winter transfer window of the Indian Super League (ISL), the northeastern club acquired the services of John Mosquera, Maic Sema and Helio Pinto to replace Odair Fortes, Luiz Paez and Adilson Carlos respectively.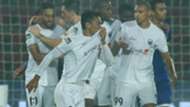 When asked about the three newly recruited foreigners, the Israeli mentioned, ''They are good; it was no secret that we needed more good players for competition. I'm sure their effect will be seen in the future games.''
Placed second from bottom on the points table, NorthEast United's campaign for a spot in the playoffs is all but over. However, the coach plans to keep the rhythm going until the end while repairing the flaws.
''We will try to win as much as we can by trying to play good football. We shall continue the process we started so well in the last month. We will try to collect points by correcting our mistakes. The team is scoring more than they did in the first half of the season; we are holding the ball more. It is not like (how) I want but it is better every game and that's what to continue with,'' he signed off.