ISL 2017-18: David James hopes for respectful rivalry between Kerala Blasters and Bengaluru FC
Kerala Blasters head coach David James is frustrated that his team's chances to qualify for Indian Super League (ISL) playoffs depend on the results from the games of other teams. 
The Yellow Army are currently fifth on the table with 25 points but a win for Goa against ATK on Wednesday will rule them out of the playoffs even before they play their final league game against Bengaluru on Thursday at the Kanteerava Stadium in Bengaluru.
"It's frustrating because I set a target of six wins knowing that it should be enough for to qualify. Five games later, we are unbeaten but we are still at the mercy of FC Goa and Jamshedpur FC. I mean there were a few cheers yesterday when Delhi scored since Mumbai were also in the equation. We are giving the best. The frustration is very much in our games. The two draws we had in the five-game run, it would have been better to win one and lose one. But for some reason, being unbeaten sounds better."
Talking about Kerala Blasters' turbulent season, James said, "It's interesting before that I came here thinking we will do a press conference talking about tomorrow's game but all this talk could be redundant because of the result tonight. So it's a slightly difficult time because our mission is to qualify for the playoffs for the ISL.
There is also another mission, the Super Cup. So we have to try to make sure that we finish in the top six of the ISL so that we don't have to play an extra qualifying game for that. So the result may not go our way tonight but it does not mean we don't need to come here tomorrow not needing to win."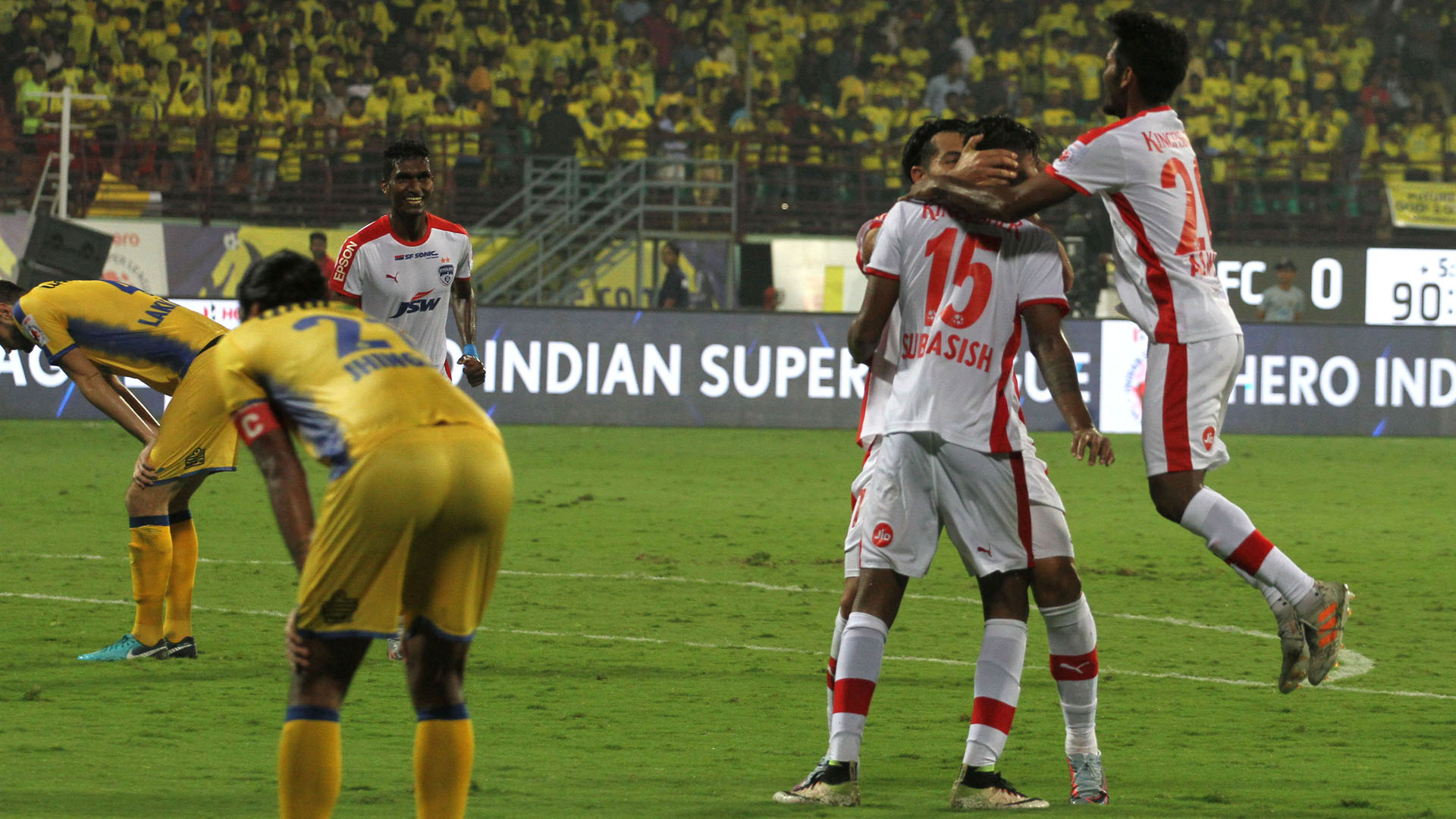 The fixture between Bengaluru and Kerala Blasters is hyped up due to the banter between the two sets of fans. "Since I have been here, since I have been involved with the Blasters now in its fourth year, as far as I am concerned and this isn't to blame anyone, that the fans conduct themselves in a proper way and I expect them to do that.
"With regards to the players, I expect them to do that. The difficulty for the manager is when the players start getting involved in the non-footballing stuff. Bengaluru are a very good side and they have to be respected for their football capabilities. That makes the game difficult of course, but also playing on their own patch which makes it even tougher. It's another game of football, just like playing in the NorthEast United in front of a few thousand fans.
"The result has to be the same that we have to win another game of football. If we lose focus on anything outside the white lines of the football pitch, that will affect our performance. This game has to be like against the NorthEast and like the one against ATK in Kolkata.  On that side, things won't change. For the fans, I hope, it's a respected rivalry."
Manjappada, the supporters' group of Blasters, have landed in Bengaluru to cheer for their team.
"This morning there was a group of fans which turned up to me on the plane.  Obviously, that makes us feel like home, like a second home. I have been informed that there is a large travelling contingent that will be here tomorrow. I just hope it will be a wonderful celebration of football and ideally, we can get the result going our way tonight, it would be a wonderful last week which we can look forward with hope along with the fans."