Indian Super League
ISL 2017-18: FC Goa's Sergio Lobera distraught over decision to go ahead with match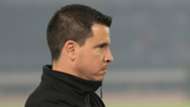 FC Goa head coach Sergio Lobera was critical of the decision to go ahead with the Indian Super League (ISL) fixture involving FC Goa and ATK despite the visitors reaching the stadium late due to complications with their flight to Kolkata.
"I have never faced [such a situation] in professional football. ISL is a great league and it doesn't deserve matches like today. The circumstances we faced in the last couple of days did not permit us to play this game today.
"Today was an incredible day. I have never seen a team warm up in their travel gear and it is not good for the fans, players or the league."
"Yesterday, our flight had to make an emergency landing. This morning also the same happened.
"It's not good as a spectacle. We spent the entire day at the airport with nothing to eat and nowhere to rest. And we had to come here running as otherwise, we would have lost three points. We had to change and come back for the match within five minutes after training," rued Lobera.
"The health of players is paramount. I am grateful no one was injured. We took a great risk today. We were not the ones the who made the decision [whether to go ahead with the game]. It was the authorities who tell you where to play and when to play," he added.
"I think my players had great mental strength and physically they did well despite the problems. We represented the fans and people of Goa with pride today," stated Lobera. 
A Robbie Keane opener was cancelled out by ISL's topscorer Ferran Corominas later in the first half. The result was not the only thing that worried Lobera.
"We had a free opportunity in the end and we should have converted. What is concerning is the matches we have after this. All those matches will get affected. I am glad we ended stronger and on another day, we could have won," concluded a distraught FC Goa head coach.