Indian Super League
ISL Final: John Gregory - Amoy Ghoshal was instrumental in helping us recruit the right players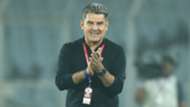 Chennaiyin FC take on Bengaluru FC in the final of the Indian Super League (ISL) season four at the Kanteerava Stadium, Bengaluru on Saturday, March 17. The South Indian rivals lock horns for the third time this season with both the sides winning one game each previously.
After four months of intense battle, the two best sides of the league come face-to-face in the final clash of the season. 
Speaking on star striker Jeje Lalpekhlua finally ending his six-game goal drought in the semi-final against FC Goa, coach John Gregory said, "I think as a striker you are expected to score goals. Jeje's job really is to score goals. If he goes without scoring a few weeks, he might lose a bit of confidence. But I firmly believe that it is only a question of time. Against Goa, he took his chances and everything is fantastic again. 
"Jeje's game is more than just scoring goals. He has contributed in so many ways. Jeje has played for us this season when we have only provided him with a couple of chances He works tirelessly for the team. In that respect, he never goes missing in matches. He is our first line of defence as well. His all-round the game the other night was superb from start to finish. He going to be a big danger tomorrow (Saturday), his confidence is very high. He is going to come up with the goods again. For a striker, lack of goals is always difficult. The team got the results, we have a lot of good players. Like the Goa game in the first leg, we scored a goal. This is about team work."
Chennaiyin had defeated Bengaluru in the first ever match between these two sides at the Kanteerava Stadium in December. It was Dhanpal Ganesh who scored the winner thus relegated Bengaluru to their first home defeat this season.
"The fact that we have come here and won gives us great confidence. We have been here before, That was my first time in the stadium. So I will know what to expect tomorrow. A very partisan crowd in there tomorrow as well. It gives a much better feeling knowing we have won there before. We are not the only team who have won there as well so we know they are not infallible. We have the utmost respect for them for what they have done this season, but we don't fear anybody."
The former Aston Villa coach credited Chennaiyin's Chief Techincal Officer (CTO) Amoy Ghoshal for recruiting quality Indian players from the ISL player's draft. He also praised Ghoshal for bringing in players with top character as well.
"We had put together a great squad in the summer and huge credit goes to Amoy (Ghoshal). I knew very little about the domestic players, Amoy knew everything about the domestic players. He was instrumental in helping us recruit the right players. Not just good footballers, but good people as well."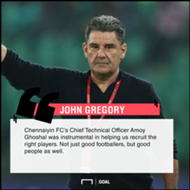 Gregory continued, "Boys who want to improve, they look after themselves. well. The group that we put together has worked exceptionally hard. We just pointed them in the right direction. They almost self-manage themselves, they have got a tremendous attitude. We don't have egos in the team, we don't have anybody who thinks they are better than anyone else."
Bengaluru skipper Sunil Chhetri scored a hat-trick in the second leg of the semi-final against FC Pune City. He is also the highest Indian goal scorer in the league this year. On asked if Chhetri will be a threat for his side, the British coach said, "He (Sunil Chhetri) scored all the goals in the semi-finals the other night, that answers your question. Between him and Miku, they scored 27 goals. Very similar to Goa's, (Ferran) Corominas and (Manuel) Lanzarote. If we keep those two (Miku and Chhetri) quiet, we might have a chance to win the game. That will be a hard task I know."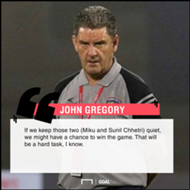 Bengaluru FC finished at the top of the table after league stage, eight points ahead of Chennaiyin FC. Gregory was asked to explain the reason why the Bangalore-based side looked a better unit in the ISL despite this being their debut campaign.
Gregory explained, "They got a better start than us, they were overlapping from what they did last season. They have been together for more time. From those early days, we spent a few weeks in pre-season trying to know each other. We took a little while to get going. In that respect, they had a bit of a head start but we made up for that. We just have to go one step further."
The British coach whole-heartedly praised Indian football and also went to extent of comparing the ISL with the English Premier League.
"I have been pleasantly surprised by the standards and the quality. The matchdays are amazing. The stadium, the pitches. It does mirror the English Premier League. To have every game live on TV is pretty amazing. It's fantastic coverage. It has been an absolute privilege and we want to finish it well."
On his approach to the final, the Chennaiyin gaffer said, "The semi-finals both were similar. The game in Goa was cagey. We managed to get an away goal which was crucial. When we equalised, I wanted the game to end then and there. Tomorrow again, it is similar. It is just a one-off. We don't have the first leg. It is a game where if you score first, they have a mountain to climb. There has got to be a winner on the day. Both teams probably have to be a little bit more attack-minded. With the quality of the two teams, I think we will have a winner (without extra time and penalties)."
Bengaluru by far have been the most dangerous side from set-pieces this season. On their opponents' set-piece abilities, Gregory remarked, "If you do it (set-piece) right, you either don't concede goals or you score. They are important, we do work hard on the game. And Bengaluru, seem to come up with something new every game. They rarely repeat their set pieces. Albert (Roca) I know works hard on that side of the game. If Sunil (Chhetri) takes a Panenka, I will be after him (Laughs)."