Indian Super League
Indian Football: BJP leader ready to be 'of help' to Mohun Bagan and East Bengal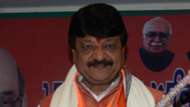 Bharatiya Janata Party's (BJP) national general secretary, Kailash Vijayvargiya has promised to set up a meeting for the Kolkata clubs, namely Mohun Bagan and East Bengal, with the Sports Ministry.
The two clubs didn't bid to be a part of the Indian Super League (ISL) as they weren't keen to fulfill the criterion of having to shell out a franchise fee and not to ply their trade from the city of Kolkata.
Indian Super League: Tata and Bengaluru FC join the ISL bandwagon
However, they still hoped they could get a backdoor entry into the ISL given that they have been in existence for over 100-odd years in Indian football. Having their wish go up in smoke, the Kolkata outfits now hope that Sports Ministry and BJP's intervention could possibly be their last resort.
"On behalf of BJP, I would be proud to be of any help as I know the contribution of century old clubs in Indian as well as international football. You are always welcome for a discussion and a meeting can be arranged with the ministry of youth and sports," wrote Vijayvargiya to the Kolkata giants.
It will be interesting to see if the Sports Ministry indeed intervens with matters concerning the All India Football Federation (AIFF) and the ISL.