India
Stephen Constantine looking for young strikers to fill Sunil Chhetri's shoes ahead of Jordan friendly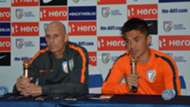 As India get ready to play their first-ever international friendly against Jordan, the spotlight has been on star striker Sunil Chhetri who has been ruled out of the tie with an ankle injury.
Instead of treating it as a setback, head coach Stephen Constantine believes Chhetri's injury provides him with an opportunity to look 'beyond' the 35-year-old Bengaluru FC striker.
"Of course, Sunil missing is a blow. He is a great player. He has been fantastic for the last four years for me. It is a loss for us but at the same time it is an opportunity for a younger player to step up. It is not possible to replace a player of his calibre but somebody must fill his shoes," Constantine explained ahead of the match.
"We often don't play without him. It is time we find somebody and there will be a time when he will not be around. It is important we find somebody while he is still around. He can pass on his knowledge and experience to the younger players and strikers so that we don't have a void," he continued.
The Englishman refuted any suggestions of him attempting to build an India squad sans Chhetri as he lamented the lack of domestic players playing in the centre-forward position for their respective clubs.
"No, I am not hinting (Sunil less Indian squad). But he is 35 years old. So, what I am trying to do is try to evolve as many young players as possible. Our players don't want to play as strikers, be it in I-League or Indian Super League (ISL) because we get foreigners who play in those positions. So, Indians don't want to play striker and they prefer to prefer wide left and wide right," said Constantine.
"Can you replace Wayne Rooney in England? I am not sure. So, what we are trying to do is try and look for other alternatives.
While analysing his centre-forward options beyond Chhetri, Constantine highlighted the lack of game time for Sumeet Passi and Manvir Singh at their respective ISL clubs as a real worry.
"It is a worry for me. But there are a lot of players playing in their respective clubs who don't turn up for the national team in that position. But I can't control the position that they play for in their clubs and without Sunil we don't have many other options. The game time is a worry. Passi and Manvir, are in and out of the team."
With Sandesh Jhingan being the given the captain's armband instead of Chhetri in India's clash against China, there was speculation that not all was happy between Constantine and the Bengaluru forward. The Englishman though, has poured cold water over such suggestions and insisted that Chhetri remained one of his captains.
Constantine stated, "I have rotated the captain since day one. Sunil has been phenomenal for the Indian National Team. He was the captain in the Intercontinental Cup for all games because it was his 100th game and I felt that he deserved that. If you remember, when he scored the hat-trick, somebody substituted him in the 89th minute so that he receives the accolades."
"If I had a problem, I would have done something different. When you have one captain you get only one voice. But if you have four captains, you get more voices from the team. We have new leaders but not replacements. Sunil is a captain and he will be the captain. But one of the captains."
When asked to comment on reports of the players being unhappy with him, Constantine replied, "If players were unhappy with me then would they have fought the way they did against China. Would we have gone 14 games unbeaten and created history? Look at the results in the last four years. Let them be unhappy and play out of their skin."
Less than two months remain now for the AFC (Asian Football Confederation) Asian Cup to get underway and Constantine admitted that India's preparations have not been ideal.
"I would like to play four or five matches (friendly games) but that is not going to happen. Is it enough time? It is never enough time," he said.
"The pace and level of our leagues are not up to international standards. Therefore, we need more time. When they come from the club we need 'xyz' number of days to bring them up again. But the European players do not need that as many of the European Leagues are as good, if not better than their national teams."
Commenting on the team's ongoing preparatory camp for the Jordan clash at New Delhi, the Englishman said, "Well, I think it is just another game for us. Preparations have been okay, but there has been the smog issue. We have tried to practice when we are going to be least affected. But so far so good."
India will take on Jordan at the King Abdullah II International Stadium in Amman on Saturday.