International Champions Cup
ICC 2018: Arsenal legend Robert Pires on what it takes to be a champion!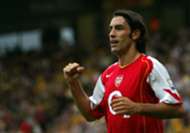 Former Arsenal star Robert Pires feels that it takes a combination of factors to make a champion team and there is no easy recipe. 
The 44-year-old Frenchman will be in Singapore later this month along with Arsenal as Unai Emery's men get set to compete against Paris Saint-Germain and Atletico Madrid in the International Champions Cup (ICC). 
Discussing Arsenal's chances of winning the tournament, he said, "It takes a lot of things (to make a champion team). Of course, you need quick players, talents, warriors and yes, you need to win something at the end of the season."
Pires has won numerous trophies with Arsenal in a six-year spell between 2000 and 2006 including two Premier Leagues and two FA Cups. One of those league titles was the famous invincible season when Arsenal won the league unbeaten. 
But Pires feels the first league title (in 2002) was more special for him. "The 2002 Premier League was the best trophy for me. When you are a professional and are playing at Arsenal, it is very important to lift the trophy."
He also had a word of gratitude for the fans in Singapore, having helped launch the ICC 2018 earlier in the island country. "I thank the fans in Singapore for the warmth and affection they have shown me. Come and support Arsenal in the ICC," he signed off. 
What are you waiting for, find out if Arsenal can script a champion moment in the ICC 2018 at the National Stadium in Singapore later this month.