Zlatan Ibrahimović
Ibrahimovic wins MLS Goal of the Year for stunner against LAFC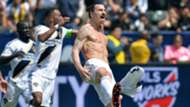 Zlatan Ibrahimovic was recognized with the MLS Goal of the Year award on Tuesday for his stunner against Los Angeles FC.
The goal came in Ibrahimovic's debut, a match widely seen as one of the most thrilling regular season clashes in MLS history.
In the first ever match between the LA Galaxy and LAFC, Ibrahimovic came off the bench in the second half with his side down a goal.
— Major League Soccer (@MLS) March 31, 2018
He proceeded to smash a 40-yard missile over goalkeeper Tyler Miller to tie the score at 3-3, providing a finish that has now been named as the year's best.
In addition to that goal, Ibrahimovic went on to score a 91st minute winner to seal victory for the Galaxy.
Also among the MLS Goal of the Year nominees was Ibrahimovic's 500th career goal, a stunning karate-kick finish in September's clash with Toronto FC.
Zlatan's 500th career goal is RIDICULOUS. 🔥#TORvLA #Zlatan500 https://t.co/gosg571udB
— Major League Soccer (@MLS) September 16, 2018
Ibrahimovic was recognized as the MLS Newcomer of the Year after scoring 22 goals in 27 appearances in his first season in the league.
The Goal of the Year voting was determined by fan voting with the Swede becoming the third Galaxy player to win the award after Landon Donovan and Carlos Ruiz.
In addition to Goal of the Year, Stefan Frei was also announced as the Save of the Year winner on Tuesday for the Seattle Sounders goalkeeper's stop against the Colorado Rapids on the Fourth of July.
Take a bow, @Stefan24Frei!

Stefan Frei earns @MLS Save of the Year for this RIDICULOUS stop 🙌

➡️ https://t.co/8c7oV5lIKp pic.twitter.com/Et9EvUruwJ
— Seattle Sounders FC (@SoundersFC) November 13, 2018
The save helped spark a major turnaround for the club in the second half of the season, with the win over the Rapids sparking a run of 12 games unbeaten for the Sounders, who closed the season with just two losses in their final 19 games of the year. 
Frei and the Sounders recently fell to the Portland Timbers to end the team's playoff run while Ibrahimovic's Galaxy missed the postseason after falling to the Houston Dynamo in the team's final match.