Chelsea
'I want to win everything' - Sarri aiming to win Europa League with Chelsea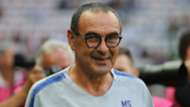 Maurizio Sarri has not yet chosen his new Chelsea captain but already knows that he wants that player to help guide the Blues to the Europa League trophy.
The former Napoli boss is taking his time choosing the right candidate to help lead the club to victory on the continent and turn them back into contenders domestically.
Gary Cahill became the club captain under Antonio Conte, but Sarri is considering other options with Cesar Azpilicueta, David Luiz and Eden Hazard in contention for the role.
Azpilicueta is currently the vice-captain, while Hazard is the club's most valuable player as well as being captain of Belgium. Entering the international break, Sarri has set himself some targets, firstly to decide on who will wear the armband and then to challenge for the Europa League.
"Nothing decided at the moment, I want to decide during the international break for the final one," Sarri told reporters. "I want to win everything, if I can. I want to win everything.
"For me, it's a pleasure to play in Europe. It's a pleasure to play in the Europa League. It's one of our targets."
Before the international break, Chelsea host Eddie Howe's Bournemouth, hoping not to slip up at home against familiar foes. The Cherries have shocked Chelsea twice at Stamford Bridge in the last two years, including getting a 3-0 win last season.
Sarri and Howe have a relationship from before the Italian's time at Chelsea, as Howe was invited to watch Empoli train when Sarri was in charge. This connection began a good relationship between the two coaches. 
Napoli then travelled to Bournemouth for a friendly match last year, with the pair meeting up once more. Sarri spoke in detail about the relationship that he built with the Premier League's longest-serving manager.
"Sometimes, not very often, but sometimes. Some messages," Sarri said about his contact with Howe. "'I asked him 'why Empoli? He told me he was studying all the little clubs in Italy and France at the time, in that period, and he was impressed with Empoli.
"Yes, I was surprised. I knew that Bournemouth, in this period, were winning the Championship. I didn't know him or the players, but I knew the situation. No, I was in a non-professional team [Tegoleto] in Italy's Serie D. I'm not surprised that Eddie has got to where he has, because he's very clever and very intelligent.
"So I'm not surprised. I think he is ready. He is 40, but he is ready. Probably, when I was 40, I wasn't ready. They are a dangerous team. In the defensive phase, they are very organised. If they have the possibility to have space, they are very dangerous on the counter-attack.
"They attack the space very well in the right time, so they are very dangerous. If you don't play very well, with a high level of attention, it's easy to lose games against them."