Odion Ighalo
'I turned down three times as much in the past' - £190k-a-week Igahlo wanted Premier League stay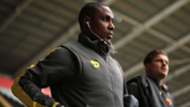 Changchun Yatai striker Odion Ighalo insists his "priority was to stay in England" but claims Watford's demands left him with little choice but to head for China.
The Nigeria international generated plenty of transfer talk during the winter window, with Crystal Palace and West Brom expressing an interest in acquiring his services.
OFFICIAL: Ighalo leaves Watford for China
They were, however, to be priced out of a move, with Premier League rivals looking to make as much as possible from a sale.
Ighalo was left frustrated as a result, with an extended stay in the English top-flight denied to him.
He is now joining the likes of Oscar and Carlos Tevez in the Chinese Super League and while admitting that "it is good money", concedes he would rather be earning less in Europe.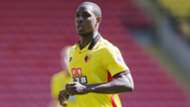 Ighalo told The Sun: "When the options came, my priority was to stay in England. West Brom came but what Watford wanted made it impossible to go there.
"Crystal Palace, too, showed strong interest but Watford's demands put them off as well.
"It was only China that could give them what they wanted. I understand football is business, they sell and buy to make profit.
"On a personal level, it is good money for me but if I had my way I would love to stay in the Premier League.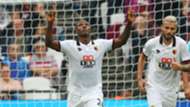 "I have my family here, the kids are in school here, they have their friends here and getting that  stability is never easy when you keep moving your family. But what can we do? Life goes on."
Igahlo is reported to have agreed a deal with Changchun Yatai that will earn him £190,000-a-week, but claims to have snubbed more lucrative offers in the past in an effort to prove his worth at Watford.
He said: "I wanted to stay and play in the Premier League, I believed I still had more to offer.
"The money then was much more than this, even triple what I will be getting now.
"I was not interested but this season I wasn't playing regularly, which is frustrating because, at 27, I want to play every weekend."