I-League
I-League: Defending champions Aizawl FC sign Japanese forward Yugo Kobayashi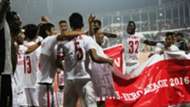 Defending I-League champions Aizawl FC have announced the signing of Japanese striker Yugo Kobayashi on their Facebook page.
The 26-year-old forward from Japan last stint was with Songkhla United FC in the Thai Division-1 league where he made 33 apearances for the outfit, scoring 12 crucial goals.
The righ-footed Kobayashi can also play on the wings apart from his preferred position up-top. The striker started his career with These Kutatsu back home in Japan before signing for JP Volantis FC in the Philippines Division-2 in 2014.
He played one season at the Philippines club where scored an impressive  20 goals in his 26 appearances. Kobayashi moved to Songkhla United FC in 2015.
The Japanese likes to take advantage of his physicality and will be a threat with his aerial ability if he can get some decent crosses coming his way. Comfortable with tha ball at his feet, Kobayashi is adept at keeping possession and bringing others into play with his hold-up skills.
The striker can also be a threat with his long-range shots having scored from outside the box quite a few time in his career so far.
Aizawl, who have now roped in four foreigners, will be singing two more in the next couple of weeks. However, with only two overseas players allowed in the Mizoram League, skipper Alfred Jaryan and Kareem Nurain will be the only eligible due to don the Reds' jersey.
The Mizoram based club has also completed the signing of custodian Avilash Paul. The 21-year-old, formerly of Pune FC, is expected to be the first choice between the sticks in the upcoming season.