I-League
I-League 2017/18: Bobby Nongbet - Draw with Mohun Bagan united Shillong Lajong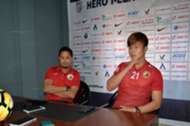 These are good times for two of the three sides from the north-eastern part of India in the 2017/18 I-League.
Defending champions Aizawl FC are languishing just two places off the bottom of the table but Shillong Lajong FC and NEROCA FC are third and fifth respectively.
The high flying sides face-off on Saturday and Gift Raikhan, head coach of NEROCA FC is an excited man.

"We are feeling excited. I hope everyone will enjoy some good football," said Gift Raikhan, the man who helms NEROCA FC. After their impressive display to hold the mighty Mohun Bagan at their own home ground, the former Pune FC man only had good things to say about the team from their neighbouring state.

"Lajong is doing very good after winning at Aizawl. We too have a lot of confidence after drawing with Bagan", he said. Also throwing caution to the wind, he commented, "The players know what is at stake even though we are fifth"

"A loss can take us to the danger zone because we are a team who got promoted from the second division and are not exempt from relegation. Having said that, we have to take it match by match. So each game is important for us."

His counterpart Bobby Nongbet, who kept the scribes waiting due to some unusual traffic congestion in the hill station, talked about his side's chances. "We have to work hard in tomorrow's game. We played to a plan not to concede any goals (in Aizawl) but we are now back home and have to push for three points. We are going to press harder," he said.

Shillong Lajong became the first team to beat the defending champions Aizawl FC at their home in nearly eighteen months, but their head coach believes the draw against Mohun Bagan gave them the much-needed boost.

"The draw with Mohun Bagan united the side and that reflected with the win over Aizawl. We deserved those three points in Aizawl," concluded Nongbet.