I-League
I-League 2017: Sanjoy Sen: I-League is the first priority for Mohun Bagan, not AFC Cup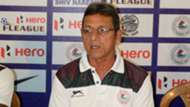 Mohun Bagan visit Bengaluru FC on Saturday as they bid to resurrect their title bid having lost and drawn their previous two games respectively.
Speaking ahead of the game, coach Sanjoy Sen laid out that their priority was to get three points and make up for the lost ground. He added that weighing the league and the AFC Cup side-by-side, the I-League had more priority.
"Our sole priority is to get three points. In the last two matches, we lost five points. It is very important for us to pick three points to stay in the fight for the championship.
"Definitely I-League is the priority. Even when we play in the AFC Cup match, it won't be without a fight. We will put out the full strength squad and try to win. But among the two competitions, I-League is our first priority," said Sen.
PSG hit out at 'malevolent' Verratti and Matuidi partying accusations
He said that the side were under no additional pressure apart from that of being one of the historical heavyweights.
"In both of the last two games we took the lead only to fail to win the game. There is no pressure. Of course, being Mohun Bagan and East Bengal, and Bengaluru FC these days, you always have the pressure to win the title," he felt.
Sen said that the game-in-hand advantage the Mariners had was useless unless they turn them into wins.
Terry's last FA Cup game at Stamford Bridge? Chelsea boss Conte hopes not
"We also had the advantage when we played the last two games. But we couldn't capitalize on it. It means nothing if we cannot gain the three points, that's the ultimate thing," he made clear.
After confirming that the likes of Kean Lewis, Raju Gaikwad, Kinshuk Debnath, Debjit Majumder and Pronay Halder would miss the tie, Sen went on to heap praise on Saturday's opponents.
"I always respect Bengaluru and was supporting them when they reached the AFC Cup final. I always say that Bengaluru have been the model for all the other clubs to follow over the last three years. This season their graph hasn't been that good. But they're a very good side and on their day can beat any team," he concluded.