I-League
I-League 2017: NEROCA FC coach Gift Raikhen - Past is the past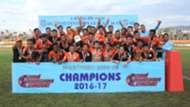 Two of the youngest sides in the I-League will go head to head when Minerva Punjab FC take on NEROCA FC at Ludhiana on Friday.
Having held Kolkata giants Mohun Bagan to a draw at home in their previous match, Minerva FC head coach Wankhem Khogen Singh is hoping his side can translate their second half performance against the newly promoted NEROCA FC.
"We were excellent in the 2nd half against Mohun Bagan. If we keep the same form we can surely collect three points tomorrow," he said at the pre-match press conference.
On the other hand, NEROCA FC will be playing their first game in the I-League since gaining promotion and head coach Gift Raikhan was not getting too carried away with expectations and targets for the season.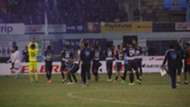 The Manipur based club will be taking the I-League game by game according to Raikhan.
Raikhan feels his side aren't too far off from their competition on Friday after having battled it out with the same opposition in the second division of the I-League two years ago.
"Two years ago we and Minerva Punjab both tried to win the 2nd Divison I-League, that year Minerva were successful but last year we managed to win the 2nd division and that too unbeaten throughout the season. Both Minerva and NEROCA are a very young squad but we also have experienced players in Gouramangi Singh and Sushil Singh. It will be interesting to watch them battle for 3 points," he said.
The coach was not willing to dwell on their previous record against the Punjab based club where they are without win in their two encounters.
"Past is the past. Let's focus on what's about to come," he remarked.