I-League
I-League 2017: Mumbai FC's Oscar Bruzon - If given space, Churchill are very dangerous in counter attacks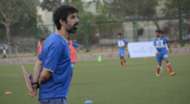 Tenth placed Mumbai FC welcome sixth placed Churchill Brothers from Goa in an intriguing fixture on Saturday evening. The two teams are battling to escape relegation this year. Speaking ahead of the encounter, Mumbai's newly appointed head coach Oscar Bruzon stated that his side is pumped up for the all-important contest.
The Spaniard mentioned that the metropolis club has resorted to making use of several technologies in order to analyze and improve their form. Also, the coach revealed that the results have been affirmative.
''We are completely focused on tomorrow's game. My communication (with the team) has been clear and we are talking the football language. We are using different methodological tools like the dashboard, videos and are also conducting practice matches. We are doing everything (possible). We are approaching from different angles and from my side all angles are positive,'' commented the 39-year-old.
 When asked to assess the visiting team, Bruzon explained that the Konkan side have a brilliant coach in Derrick Pereira whom he rates highly. Further, the Mumbai boss mentioned that the Red Machine comprise a deadly combination of forwards who could cause trouble to the defensive forces of the Yellows and Blues.
Churchill Brothers and Mumbai FC gear up for a crucial six-pointer
''They were champions of I-league, four years back, so when they are competing, they do well. They have Derrick (Pereira). When I was in Goa, I used to play against him many times and for me he is the best Indian coach currently. They a good set of foreigners, especially upfront.
So, if you ask me to tactically analyze them, they are a very lethal team. They are very dangerous in counter attacks if we give space to them. But if we can control the game, I feel that is the best way to beat Churchill (Brothers),'' disclosed the former Mumbai City assistant coach.
Lastly, discussing the injury list of the hosts, Oscar explained that there has been no concrete report on the fitness of Brazilian forward Alex Willian Silva and Manipuri medio Thoi Singh. The foreigner had injured his calf whereas his team-mate Thoi was seen struggling with his right leg.
''We have a list of 19 players right now and both of them are included in it. Depending on the practice today and report from the physiotherapists, we shall decide the final squad most probably, only by tomorrow,'' said the manager who is currently on a 45 day contract.
Aizawl, Mohun Bagan and East Bengal in the great title run-in
As for the visitors, 55-year-old Derrick Pereira claimed that his side is well prepared for the decisive tie at Cooperage and believes the fixture is equally important for his lads.
''There are only two teams which are fighting to avoid relegation- that's Mumbai FC and Churchill (Brothers Goa). I think it is important for both the teams to get a good result. We have been working hard although we didn't get too many matches to play during the (international) break. The players are geared up and we are hoping to continue our good form in the remaining matches as well,'' remarked the Goan boss.
The Churchill Alemao-owned outfit registered three consecutive wins since the appointment of Derrick but played against just one side- Dempo SC- during the international. When quizzed if the three week break and lack of practice matches could break the consistency of the result, he ansewered, ''I don't think so. We have been practising together, except for a few players who had some personal reasons and couldn't attend practices. Apart from that, we had one good practice match against Dempo (SC). And the players are all fit except for Rowilson (Rodrigues) who got a cut on his foot. He'll be out for this match.''
Upbeat Chennai desperate to break away duck and capitalize on Minerva's poor form
Churchill are currently placed sixth on the table- four places above opponents Mumbai FC. The coach aims to end the season at a decent position but his priority lies in escaping relegation.
''Firstly, our aim is to avoid relegation and then see what position we can achieve. Every match is important so we'll take one game at a time. We'll see tomorrow's outcome and take it forward from there,'' he asserted the former Indian international.
Lastly, Pereira debated about the lack of football in the western part of the country. The former defender believes that the fever of the 90 minute game has relatively reduced in Goa and Mumbai which has resulted in the lack of platforms for the upcoming young players. Also, Pereira reckons the Indian Super League franchies to take over as the supreme clubs in the cities.
''Yes, I think it has reduced to some extent. Players don't get opportunities to perform at the highest level. Youngsters always look forward to top clubs, like when I was a kid, I looked forward to Salgaocar (FC), Dempo (SC), Vasco (SC). In Mumbai they used to look upto Tata's and many others. Now, there has to be some team to play at the top level. Maybe, the ISL (Indian Super League) teams could be those,'' he signed off.