I-League
I-League 2017: Luis Norton - Afternoon kick-offs upset our sleep and diet routine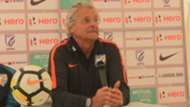 Indian Arrows suffered their third consecutive defeat in the I-League this season and coach Luis Norton de Matos had several reasons to complain.
In almost every country, the kick-off timings of the matches are planned as per the comforts of the participating teams and players, or in some cases when the said tie would attract maximum eyeballs. However, in the I-League that isn't the case. The idea is more to schedule a game at a time when no one would watch a match!
Norton stated that 2 pm kick-offs doesn't benefit the players one bit and in fact upsets their routine.
"For us, the I-League is difficult. We don't have any home. We played (for the) first time on this pitch (Ambedkar Stadium) yesterday. It is very hard and not that good. It is difficult to play touch football on this pitch. But this is not an excuse. It takes one hour to come here, which is a lot of time.
"To play at 2 o'clock changes our entire diet and sleep routine. In I-League every team is over dependent on one or two foreign players. Here football is very physical. But I appreciate this as this competition is good for my boys. The U-18 (league) is no competition for us," he shared his thoughts.
The former Benfica 'B' coach was also critical of the lack of support in the stands both in Delhi and Goa. He also questioned as to why his team are playing their home matches in Delhi as opposed to Goa.
It must be noted that while fans do turn up to watch the Indian Super League (ISL) matches in Goa, the attendances for the national team and I-League matches has been deplorable.
"There a lot of important details which a home team takes advantage of. Like in NorthEast or South, they have good supporters which create a different ambience for the players. In Goa we played in front of not many people. For us it was like training!
"Goa has better facilities to train. Delhi is more complicated for the logistics issue. A lot of time is lost commuting from hotel to training. But in Goa it is compact and within 15 minutes we reach training. Goa is a more quiet life and a better place to prepare.
"I don't know the reason behind the shuffling of home games. To find good training ground is a problem in Delhi along with the pollution. But I can play anywhere because all that matters is experience. I am prepared to play here if there were 10,000 people. But it is same here as in Goa. For the ambience, there is no influence on the players," he concluded.