I-League
I-League 2017: East Bengal's Trevor Morgan: Lost the game trying to win against DSK Shivajians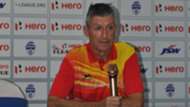 Trevor Morgan oversaw East Bengal's fourth I-League 2017 loss on the trot against DSK Shivajians at Barasat Stadium on Sunday. The Briton however, lauded his team's efforts despite officially bowing out of the title race.
"We played more chances than we had in our last three games. The end result was the same as it had been in the last three and now fourth game. But, I think there was a response from the players. It had been a difficult week," he said pointing to the mass protest by supporters against him on Friday morning.
He added, "My mind has been in a difficult place and I am sure the players have as well. Having given that kind of performance given all that has gone by this week, I am happy with what they gave us despite not winning"
"Subrata's (Pal) had a great game tonight. He made some top saves in the second half. I couldn't ask any more from my players given what has gone on this week," Morgan commented.

REPORT: East Bengal 0-1 DSK Shivajians
Even before the game begun, 'Go back Morgan' chants engulfed the half-empty stadium but the Perth-based Englishman cut a composed figure and tried to not pay heed to the jeer.
"They pay their money, they are entitled to their opinion. They'll shout and abuse and we have to accept that. I have to ignore it. I have had criticism as a player, criticism as a coach; praise as a player, praise as a coach. If you want to read good things about yourself, be prepared to hear and read the bad as well"
"It's okay. If they are giving it (stick) to me, they are not giving it to the players. It means the player can then concentrate and get on with their jobs. Tonight, it's been our best performance in quite a long time," he expressed.
Morgan also revealed how he was particularly not excited with his morale at an all time low. The former Dempo SC boss said, "I love football. From the moment I have walked, I have played football. This is the first time I had not looked forward to the game given what's gone on this week."

As it happened: East Bengal vs DSK Shivajians
Analysing the game, Morgan took some positives out despite the defeat but chose to pull up Goan midfielder Rowllin Borges who failed to carry on his instructions on the field, ultimately leading to the goal.
"We just didn't finish off our chances. We were lacking in quality for the final pass and then we conceded the sloppiest of goals from a corner. I had talked to Rowllin (Borges) to maintain his body position to take on these chances on set-pieces and when things are not going your way, these little things cost you. If he had done his job, then this wouldn't have happened."
Morgan also told why he chose not to start with Haitian playmaker Wedson Anselme. "Wedson was out for six weeks, he played the full 90 minutes last week and he has been struggling. My idea was to give him the last half an hour when hopefully they were tiring but it just so happens that they were winning and I had to put him after halftime."
"We played three at the back and we put a formation to hopefully win the game. We got as many attacking players that we could get on the pitch. Got two wide men to stretch the game but defending is part of the game as well and the 10-15 seconds we switched off, it cost us," opined the two-time Federation Cup winning coach.
The league title hunt now officially over, the 60-year-old reflected on how his team have improved although on a losing rut.
He said, "I hate losing any game. It's not losing one game, let alone four. At least tonight, we lost but lost the right way. We lost trying to win it. The other games that we lost in, I have questioned the players' character, attitude but tonight they gave everything that they had given how difficult this week has been."

Mourinho has now beaten every Premier League team he's faced as a manager
The former Bournemouth player reiterated that his job might not be secure come the end of the I-League as he still did not want to think of the Federation Cup next month.
"Our aim out there is to try and win the next game. Federation Cup is a long way yet... especially for me," he concluded.