I-League
I-League 2017: East Bengal's Khalid Jamil - Chennai City are a good side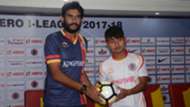 East Bengal registered a 2-1 win over Chennai City FC as the Red and Gold climbed to the second position in the I-League.
There were concerns raised over the poor field ahead of the kick-off but Jamil chose not to complain.
"We played here (Coimbatore) for the first time and there's no complaint about anything. I'm very happy; it was a good result. They too tried hard. They are a good side," said the former India international.
He acknowledged that his team didn't play the game with the same intensity as they did in the first half.
"I'm just happy to get this result. We are looking for the next match (against Gokulam FC). Maybe the tempo slowed down later because we scored an early goal and later decided to play deep. Looking upon the result, we are happy to grab (three points)," said Jamil.
Chennai City FC coach V Soundararajan was disappointed that his team didn't convert the chances that came their way in the first half. He was also left furious with East Bengal's time wasting tactics.
"We missed two golden opportunities in the first half. I've seen lot of slow tactics but they took more than six minutes from the 45 minutes. This is not a good sign.
"Comparatively, East Bengal is well-organized side because they have five key players. We had watched everything therefore we needed to be more compact in the midfield which is why I fielded five in the middle.
'The system helped us but unfortunately we conceded the goal. Particularly, I want to work on the communication skills with the defence," he pointed.
He also promised that the pitch at the Jawaharlal Nehru Stadium, Coimbatore will improve.
"The crowd today was great; it was a fantastic support which means it was a good start for us. In the future, the pitch will get better," he mentioned.