I-League
I-League 2017-18: Khalid Jamil - We have to rectify our mistakes and move on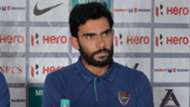 East Bengal take on Indian Arrows in a crucial I-League encounter on Sunday at the Barasat Stadium. Khalid Jamil's men need to win this match in order to stay in the title race. 
The Red and Golds snatched away a point from league leaders Minerva Punjab in their previous game last week thanks to a last-minute goal from Brandon Vanlalremdika. Anything other than a win against Luis de Matos' boys will most likely end East Bengal's title aspirations for this season.
Ahead of the vital clash, East Bengal coach Khalid Jamil said, "We did not go down easily in the last match (Minerva Punjab). We scored two goals after conceding. We have to fight similarly in this match. They (Indian Arrows) are playing well. We have to play well as well. We must think about our game."
On asked if playing in Barasat instead of Salt Lake stadium will be a problem for his side, Jamil replied, "It doesn't matter where the match is. Our work is to play, no matter where."
Khalid agreed that they are under immense pressure at the moment but he suggested that they need to win their six matches in order to remain in the title hunt. "There is pressure. We have six more games to prove ourselves. We have to rectify our mistakes and move on."
Indian Arrows head coach Luis Norton de Matos recollected fond memories from their last visit to Kolkata where they held Mohun Bagan to a 1-1 draw. He said, "This is a place of football. I have very good memories from the time we played against Mohun Bagan.
"For us, we are going to try to be our best as usual. East Bengal is a team to challenge. A lot of concentration is needed to face them. It is going to be difficult but not an impossible mission."
Luis Norton de Matos suggested that playing on the artificial turf of Barasat will be a problem for his side. He said, "To play in Salt Lake Stadium would have been fantastic for the boys. But we have to play on artificial grass, it is difficult."
The Arrows coach suggested that his boys have improved a lot. Matos continued, "I am sure they have developed, what people expected from them, they have done better than that. It is important for every club to use boys aged 16-17, only then Indian football will develop."