I-League
I-League 2017-18: V Soundararajan - Chennai City in relegation position because of referee's mistake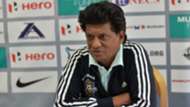 While Chennai City FC managed to hold Kolkata giants Mohun Bagan to a goalless stalemate on Wednesday in the 2017-18 I-League, the focus was on the glaring refereeing error rather than the actual game itself.

Tarik Akhand (already on a yellow from the 40th minute of the game) conceded a penalty in the 81st minute and referee Akash Jackson Routh showed Edwin Vanspaul the yellow card, with Akhand remaining on the pitch despite two meriting two yellows.

Moments later, Vanspaul was shown two yellows in quick succession and sent off as a mini player-revolt ensued with the Chennai City players encroaching the referee.The game had to be paused for a long time and only resumed with twelve minutes of added time.

"It was a  wrong decision by the referee and there was a lot of confusion.  It was not a penalty but he showed the yellow card to Edwin. He mistook him for Tarik. Don't know what happened. I guess referees are afraid of big clubs like Mohun Bagan, East Bengal. There were a lot of decisions against us," Chennai City boss V. Soundararajan expressed after the game.

He added, " We are in relegation position because of referee's mistake.  The result would have been different maybe if we had ten men on the field. This is the third time we have been down to ten men for no fault of ours."

"But, referee's decision on the pitch is final. Maybe the authorities will take retrospective action against him, maybe suspend the referee. But, now we have to face the music as Edwin is suspended for the next match."

He also argued that they were robbed off a penalty themselves earlier in the game and the referee only had the interests of the visitors in mind while being biased against the southerners. "It was hundred percent not a penalty, why is he afraid of Mohun Bagan, I don't know. It seems purposeful and intentionally he ruled against us," the coach clamped down.

His counterpart, understandably went the other way and chose to stay mum on the referee and his actions. "Can't say anything about the referee. In India, if you open your mouth against the referees, then players and coach always get suspended", said Mohun Bagan head coach Sankar Lal Chakraborty.

However, he did concede in the title race, now eight points behind leaders Minerva Punjab with only five rounds to go. "We are out of the championship (race). "

"The penalty was pre-planned. Before Akram Moghrabi's signing, Dipanda used to take it. All our opponents know that so now the pecking order has changed. First Akram, then Dipanda and if not, Cameron Watson", explained Chakraborty, coming to the defence of the Lebanese striker, who failed to convert from the spot.