Premier League
I always wanted to play in Premier League, says Ayew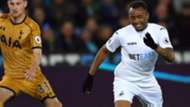 Ghana striker Jordan Ayew has revealed his longtime desire to play in the English Premier League.
The 25-year-old joined Aston Villa last season from French side Lorient but his side were relegated, before he moved to Swansea City in January.
"I have always watched the Premier League," Ayew told Swanseacity.net.
"When I was growing up in Ghana, it was always my dream to play here. I got the opportunity with Aston Villa. It didn't work out really well for the team but I think it was okay for me, although you don't see that when the team go down. It's hard to enjoy it.
"But I always tried to do my best, that's the truth, and I hope people could see that. Maybe that's why I was given the opportunity to come to Swansea," he said.
He added: "I spoke to my brother Andre Ayew and he told me to come here [when I wanted a move away from Aston Villa]. When Andre was playing here, I was here every week. I was always laughing at my brother because in Swansea, it was always raining. A year later, I am here! You cannot predict what will happen."
Ayew has played eight times for Swansea since joining and is expected to start against Watford on Sunday as they seek to end a five-game winless streak.