Aleksandr Golovin
'Humble' Golovin one of Europe's best youngsters, says CSKA assistant coach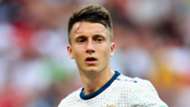 Monaco have signed "one of the best young players in Europe" by landing Aleksandr Golovin from CSKA Moscow, the Russian side's assistant coach says.
The 22-year-old snubbed interest from Chelsea to join Monaco in a €30 million deal on Friday, signing a five-year contract with the Ligue 1 team.
Golovin's reputation was given a boost by his impressive displays at the World Cup as he helped Russia reach the quarter-finals. 
But the midfielder had shown long before then that he had a lot of potential, with former Russia star Viktor Onopko convinced of his talent when he made his debut in 2014.
"He obviously had something extra," Onopko told Goal. "It was also obvious that he was hard-headed and he improved very quickly.
"Thanks to his will, his seriousness, his ability to listen and to work, he has become simply one of the best young players in Europe."
Although Golovin's natural role is in midfield, Onopko was quick to point out his versatility and work rate.
"He is an offensive player of course, but he is also very good at doing the difficult work when the team does not have the ball. He defends well and he's very good on the tactical work," he added.
"He can play in the centre or as a winger just as well because he is a tireless workman. Attacking and creating chances are still the things he does best. 
"He can perform well in many positions and nowadays we see very few players as adaptable as him. Having a player like him is ideal for a coach because he can use him in many positions and in different schemes."
He is a rarity off the field, too, according to the former defender. Although Golovin may already be a star with ever-growing fame, he's modest about it.
"Golovin combines football and human qualities because he is an humble guy. He does not behave like a star. He keeps his feet on the ground and knows all he has to do
"He is always at 100% in the training sessions because he always wants to prove himself.
"When these qualities are lacking, when players start to talk more than play, they disperse and have lower demands for themselves.
"It can't be like this with Golovin, who knows all he has to do and the way he has to go."