Mauricio Pochettino
'He's ruthless if you cross him' - Kane says there are two sides to Tottenham boss Pochettino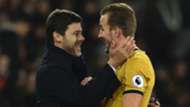 Harry Kane has described Tottenham Hotspur manager Mauricio Pochettino as an "emotional" coach, adding that he can be "ruthless" at times.
Aguero is right to fear for his Man City future
The Argentine coach has earned praise in recent years, having impressed during his first three seasons as a coach with Espanyol before he replaced Nigel Adkins at Southampton - a move that proved controversial with many in England.
However, he has continued to shine in the Premier League and his improvement of Southampton led to him moving to Tottenham, where he guided the club to a third-place finish last season.
Currently sitting second and in the last 32 of the Europa League, Pochettino continues to earn respect, but Spurs' star striker maintains there is a dark side to an often happy-go-lucky manager.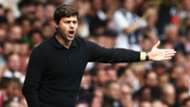 "A lot of the time he's calm, but he's very passionate," the England international told ESPN FC. "If he feels the problem isn't the game but is about our attitude, he'll tell us we need to work harder or play harder.
"He's emotional. And that's what we want - we all feel the same. We all want to win, we've all got the same goal.
"He's got two sides to him. He's very respectful. If you respect him, he'll show you respect back. If you work hard for him, he'll give you his time. But he's ruthless if you cross him. If you don't want to work for him and you don't want to be a team player, you won't be part of the team."
Kane, 23, has excelled up front under Pochettino, scoring 14 goals in 19 Premier League matches this season, and he says it did not take long for him to be convinced by his boss' quality. 
"When I first met him, I knew he was a respectful guy," Kane said. "Straight away I knew he was someone I could get on with but only if I was working hard, respecting him and being part of the team. That's what he wanted.
Koscielny questions Arsenal's selection choices against Chelsea
"He wanted players who would put in extra work for him and he'd show them love back. That's what we've got now. We've got a good relationship, great respect for one another and I think he's one of the best managers in the world - not just tactically on the pitch but off the pitch as well, in the way he manages his players. He's a great manager to work under.
"I was young at the time - Adebayor and Soldado were here and they were first choice. I was working hard to try and get that spot. It didn't work straight away, I had to wait my turn and I wasn't in squads at times.
"I went to ask him what I could do better and what I could do to get in the starting XI. He told me a few bits here and there, but mainly to keep working hard. I did, and I got my chance - I managed to go from there."