Celtic
Hearts striker MacLean hoping Celtic 'get pumped' by RB Leipzig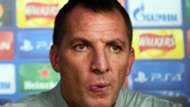 Hearts striker Steven MacLean confessed that he hopes Celtic 'get pumped' by RB Leipzig in the Europa League on Thursday night.
The Edinburgh club currently sit at the top of the Scottish Premiership, six points ahead of the Hoops.
Despite being a former Rangers man, MacLean's comments did not come from a malicious place, rather one of hope as Craig Levein's charges gear up to face the Scottish champions in the League Cup semi-final on Sunday.
With his own side flying high on confidence, MacLean feels a European defeat for the weekend's opponents could serve his team-mates well.
"Hopefully Celtic get pumped [on Thursday] and lose a bit of confidence," the 36-year-old said, as per The Scotsman. "Then we'll see what happens on Sunday.
"We've beaten Celtic already this season so there's no reason why we can't do it again. Obviously they've picked up since then and scored ten goals in their last two games, but we've got belief.
"[A loss for Celtic] can help, especially if it goes deep on Sunday. Of course you want all Scottish teams in Europe to do well but I hope they have a hard game as that can help us."
Celtic's domination of Scotland's top flight in recent years is a testament to the quality their squad boasts, but MacLean feels that his own side are hardy enough, and dangerous enough, to take the game to the champions.
"If we've got something we can hold on to and they're pushing, we know we can go the distance," he added. "We know we can make it hard for teams.
"We can go toe-to-toe and fight with teams, but we can play a bit as well. Goals are coming from all over the team with different people chipping in.
"The boys have taken to what the gaffer wants and he has to take a lot of credit, we've all bought in to what he wants. Every week he just keeps telling us to do what we're good at."