African All Stars
Drogba 'was like an animal' – Lampard hails favourite teammates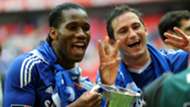 Chelsea legend Frank Lampard has named John Terry and Didier Drogba as his favourite teammates.
Lampard, Terry and Drogba enjoyed a trophy-laden career at Stamford Bridge and led the side to their first Uefa Champions League triumph in 2012.
The former England international could not choose between the former Blues skipper and the ex-Cote d'Ivoire international, while praising the former's different approach to the big games.
"I always say Didier Drogba and John Terry [were my favourite to play alongside], for different reasons so it's like a double-headed answer really," Lampard told Copa90.
"John, I wouldn't say he's underrated because everyone appreciates how good he was but I think he's underrated on the ball, how good he was.
"Didier for me was amazing, to have him in your team in a final, you felt Didier in the dressing room before a big game that it was a different Didier, he was like an animal.
"His preparation, the intensity in his eyes and then he always produced."