Marko Arnautović
'He thinks he's Ronaldo!' - Neville slams Arnautovic after dismal showing for West Ham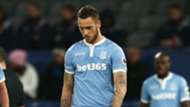 Gary Neville has criticised Marko Arnautovic's limp showing as West Ham suffered a humiliating 3-0 defeat at home to Brighton on Friday.
Slaven Bilic's men have had a rough start to the season, but the former Manchester United defender does not believe the Austria international is doing enough to help his team-mates.
The 28-year-old was criticised for not working hard enough, with Neville suggesting only a player like Cristiano Ronaldo should be allowed to get away with not doing sufficient defensive work.
"I have only ever played with one player that had an excuse not to track back and that was Cristiano Ronaldo," Neville told Sky Sports. "He scored 40 goals in a season.
"Arnautovic is Ronaldo in his own mind. That's the problem, he thinks he is better than he is."
Fellow pundit Jamie Carragher was equally scathing of the former Stoke player.
"I was very critical of Arnautovic during the game, he was a huge money signing," he said.
"It can be difficult to settle and show your true form at a new club, but that performance was not one you think was desperate to show everyone what he can do.
"He's walking about during the game, it was beyond belief, certainly in the first half. It was so poor, and it heaps so much pressure on the manager."
With West Ham now 17th in the standings, Carragher fears for the future of Bilic in the dugout.
"That's the kind of performance that gets the manager sacked," he added.