Premier League
Man City boss Guardiola: Wenger's right, top-four finish is like a trophy!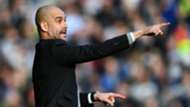 Manchester City boss Pep Guardiola says Arsene Wenger is right to think a top-four Premier League finish is like winning a trophy.
Wenger first made the claim in early 2012, insisting after an FA Cup defeat at Sunderland that "the first trophy is to finish in the top four".
The Frenchman and Arsenal as a club have been mocked for that belief ever since, even as they won back-to-back FA Cups in 2014 and 2015.
Pep on Brexit: We'll go if not wanted
But Guardiola is completely in agreement with Wenger due the quality of competition for the top positions in England.
"Here yeah, in England definitely," he said on Friday.
The Catalan did refute the idea that he would rather finish in the top four than win the FA Cup - with City set to meet Arsenal later this month - but he did reassert his belief that finishing in the top four is crucial.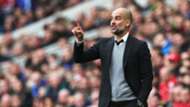 "No, I don't say that [it's better than winning the FA Cup], but it's like winning a title, definitely. There are such strong teams, yeah."
He added: "It's important to try to be there, but six teams want to do that, so two teams will be out. Even Everton will be involved in that," he added. "This year looks sometimes amazing. Chelsea and Liverpool didn't play in Europe, and when you see Chelsea and Liverpool player [you wonder] what happened last season not to be even in the Europa League, so that's how difficult it is."
Only Pep can match Wenger's power
City can move seven points ahead of fifth-placed United and 10 clear of Arsenal in sixth if they beat the Gunners on Sunday afternoon, though Guardiola was asked how finishing out of the top four would affect his plans to sign players this summer.
"The effect I don't know," he said. "I think you can seduce [new signings] not just about the salaries, the people want to play in the Premier League for many reasons, people can accept to come, but I don't know. I cannot answer that. Maybe in the summer if we are not in the Champions League you can ask me and I can say we wanted to buy two or three players but they didn't come because they want to be in Europe, then I will have the answer, but at this moment I don't know."