Transfers
Guardiola does not want Messi at Manchester City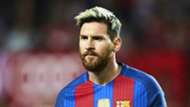 Pep Guardiola has ruled out the possibility of signing Lionel Messi for Manchester City, and says he would rather the Argentine stays in Barcelona until the end of his career.
Italy sensation Belotti is the most complete No.9 in Europe
It has been reported that Messi is open to the idea of leaving Barca when his contract expires in 2018, and it is an open secret that City believe they are at the front of the queue to sign him should the opportunity ever arise.
But when asked about that eventuality, Guardiola not only says it will not happen, but that he would actually be against the idea.
"I've said this more than once," he answered. "Messi is going to end his career at Barcelona. And that's what I profoundly wish, that he ends his career in Barcelona."
Guardiola helped Messi become the best player in the world during their time together at Camp Nou between 2008 and 2012.
Messi has been linked with moves away from Barca at various points since Guardiola left the club, and City have tried to ensure they would be in pole position if that were to ever happen.
The club are understood to have held a meeting with Messi's father, Jorge, in Sao Paulo before Barca signed Neymar, and were also keen to show off their City Football Academy, which had only just been opened, when Messi's Argentina side trained there ahead of a friendly with Portugal at Old Trafford in 2014.