Premier League
'Greatest run in Premier League history required to catch Chelsea' - Neville on title race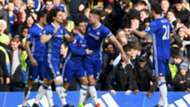 Gary Neville has warned those looking to chase down Chelsea that "the greatest run in Premier League history" will be required to keep the title away from Stamford Bridge.
The Blues surged to the top of the table on the back of a 13-game winning streak that left their domestic rivals trailing in their wake.
Cahill: Costa drought is team's fault
Nobody has been able to get near them since, with Antonio Conte's side still holding an eight-point advantage over the chasing pack.
They did drop two points in surprising fashion at Burnley on Sunday, but there are just 13 games remaining in the 2016-17 campaign.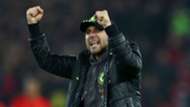 Manchester City, Tottenham, Arsenal, Liverpool and Manchester United are all hoping that Chelsea will suffer an alarming dip, but Neville – an eight-time Premier League title winner – doubts any of the hopefuls will be able to take advantage of any wobbles heading down the home stretch.
He told Sky Sports: "I don't think it's so much about whether Chelsea will drop points - they will.
Pedro: Chelsea retain advantage
"It's whether the others are capable of putting together, potentially, the greatest run in Premier League history to win 14, 13 games on the bounce on the way in.
"You're still relying on Chelsea losing three or four matches and winning 13 or 14 games. 
"I'm not sure we've got the trust in the other teams yet to think they can do that.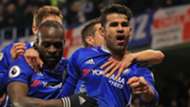 "The fact that Europe's starting again for many of the teams will make it even more difficult.
"I think Chelsea are strong favourites, it could happen, but Chelsea would have to get injuries to key players - that's the one thing that would cause a big problem to Chelsea."
Shandong laugh off Fabregas links
The Blues have suffered just three Premier League defeats all season, winning 19 of their 25 fixtures to date.
They also boast the joint-best defence in the division, while only Arsenal and Liverpool have bettered their 52-goal haul.