Liga MX
Grande? Not a grande? It's time to put a tired Liga MX debate to bed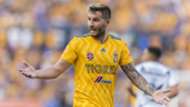 It's grande vs. ... not grande ... when Cruz Azul welcomes Tigres to the Estadio Azteca on Saturday in the matchup of the weekend in Liga MX.
Except, it's not always entirely clear who the grande is. There are four in Mexican soccer, labeled as such thanks to their historic success and enormous popularity throughout the country: Club America, Chivas, Pumas and Cruz Azul. Yet this weekend's matchup shows the absurdity of the whole idea. 
Cruz Azul's last title came back in 1997. Tigres have won four titles since then. Well, it's about the history, fans of the grandes will argue. That's fine, but Tigres have won just two titles fewer than Cruz Azul all-time. Toluca, a historic team not considered a grande, has won 10 titles - that's two more than Cruz Azul.
In recent years, fans of Tigres have pushed to have the club considered 'the fifth grande' with some commentators even widening the net and saying that both Tigres and Monterrey should be considered grandes. Those ideas have been met with howls of laughter from the fans of the historic clubs. The Monterrey sides are the nouveau riche, the new money that has come in and signed big-name players like Andre-Pierre Gignac, Eduardo Vargas and Guido Pizarro for Tigres or Rodolfo Pizarro, Jesus Gallardo and Dorlan Pabon for Rayados. Rayados also have a gleaming new stadium that is set to host World Cup matches in 2026. 
Before each match, coaches and players get asked to deliver edicts on the whole system. "Tigres has become much more of a grande as the years have gone by, it's become a bit more of a grande because of what it has achieved, the titles, the players it has and because it has played in finals," winger Jurgen Damm said.
Cruz Azul manager Pedro Caixinha weighed in, saying "Tigres has a really rich squad. I'd say that Tuca has to be the reference for Mexican football managers since I've known it. From there to being considered a grande, from my perspective there are three points: the history a club has in a country where there are clubs with more than 100 years of existence, the trophies, we understand clearly it's the best team in terms of football titles in the last decade, the example team in Mexico and the fans have to be national and international, not just local. A grande has to have these three things."
While the whole debate about if so-and-so is still a grande or if such-and-such should be the fifth or sixth or seventh or whatever makes for fine chat in the bar or on the television debate shows, but it ultimately distracts us from watching the actual soccer on the field.
The actual soccer this weekend should be great. There's a rebuilt Cruz Azul team that got off and running with two victories, including one in its new home, the Estadio Azteca, where the club moved with Estadio Azul set for destruction. While the long-term plan is to build a new facility, the short-term is to crash on America's couch. The first game was a success, though, and a big crowd is expected for Satruday's marquee match. 
Things on the field are looking good as well. After new signing Elias Hernandez's Man of the Match performance in the first week, it was familiar face Martin Cauteruccio who lifted the club to victory last week over another grande, Chivas. The back line is retooled with Pablo Aguilar starting and while Igor Lichnovsky has yet to dislodge Julio Dominguez from his starting role, the back line is improved no matter who is there.
Tigres also have two wins from two matches, with Guido Pizarro's return to the midfield allowing Tuca Ferretti to play around more than he could in the Clausura. Pizarro started next to Rafael Caricoa in the 2-0 win over Leon but Tuca took off the midfielder and put on Juninho as the veteran center back works to return from a preseason shoulder injury. He should start this weekend, which may or may not end up being a good thing for Tigres. While it will push Jorge Torres Nilo back into his natural position, the captain looks like the weak link for Tigres - one that could be exploited by teams that have speed in their attack like Cruz Azul now does. Missing Gignac because of illness also hurts Tigres, though there's depth to fill his spot up front.
Both clubs have attacks with exciting players, defenses that can shut down the opposition and managers who are characters. It's time to put the whole 'Which club is big?' debate to rest. After all, Santos Laguna isn't a grande and isn't off to as good of a start as either of the teams facing off Saturday. Grande? New grande? Fifth grande? No, the title every team should really be aspiring to is the one Santos currently has: Champion.