Africa Cup of Nations Qualification
'Good job Super Eagles' - Twitter reacts as Nigeria secure 2019 Africa Cup of Nations berth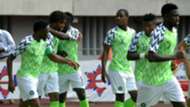 Nigeria have secured their place in the 2019 Africa Cup of Nations with a game to spare after being held to a 1-1 draw by South Africa in Saturday's penultimate qualifying game.
Buhle Mkhwanazi's own goal put the Super Eagles ahead in the 10th minute before Lebo Mothiba's equaliser six minutes later.
Despite two questionable offside calls costing Gernot Rohr's men two goals, they remain at the summit of Group E with 10 points from five matches and will return to the Afcon stage for the first time since 2013.
And football enthusiasts on social media have showered praise on the team for their performance and feat.
It's full time here at the FNB, Johannesburg, South Africa.
1-1.#RSANGA #2019AFCONQ.
We have qualified for the #2019AFCON.
Congratulations 🇳🇬 #SoarSuperEagles #Team9jaStrong

— 🇳🇬 Super Eagles (@NGSuperEagles) November 17, 2018
And the Eagles soar back into the AFCON. #SoarSuperEagles #Team9jaStrong #RSANGA #AFCON2019Q pic.twitter.com/k8FeQ7CVHO

— 🇳🇬 Super Eagles (@NGSuperEagles) November 17, 2018
South Africa 1 - 1 Nigeria. I'd take that. Nigeria has qualified for the next AFCON. Welcome back Super Eagles!

— JJ. Omojuwa (@Omojuwa) November 17, 2018
We qualified.... good job Super Eagles 🇳🇬 #RSANGA

— Do2dtun Energy gad (@iamDo2dtun) November 17, 2018
Gernot Rohr is doing very well as coach of the Super Eagles of Nigeria. It's not luck or coincidence. He knows his onions. #SoarSuperEagles #Team9jaStrong #AFCON2019Q

— Bolarinwa Olajide (@iambolar) November 17, 2018
BREAKING: The Super Eagles 🦅 of Nigeria qualifies for the Nation's Cup.

— Adeyanju Deji 🇳🇬 (@adeyanjudeji) November 17, 2018
Congrats to the Super Eagles- qualifying for the nations cup for the first time after three trials! #Afcon2019Qualifiers #RSANGA

— Ezenmo Of Sports⚽🏸🤾 (@chidi_maestro) November 17, 2018
Q U A L I F I E D pic.twitter.com/SQydTbHFvS

— Soar Super Eagles 🦅 (@SoarSuperEagles) November 17, 2018
Congratulations super eagles qualified for Cameron 2020 afcon pic.twitter.com/Wa2NVZNASS

— OBIM OKOYE. 🇳🇬🇳🇬 (@obinnaokoye18) November 17, 2018
Super eagles unbeaten away at Cameroon, Algeria, South Africa, Libya and Zambia and haven't lost away to any African team since 2016. Impressive #AFCON2019Q #RSANGA

— jezz (@jeremy_liit) November 17, 2018
Congratulation to the Super Eagles for returning to the top stage of African Elite football Competition after missing out on two back to back tournament 💃📈 #Team9jaStrong #SoarSuperEagles #RSANGA #AFCON2019Q pic.twitter.com/ietHimaxd9

— Owoyomi Bamikole A. (@Mr__Bankky) November 17, 2018