Premier League
GOAL's brightest stars: The best attacker | Mohamed Salah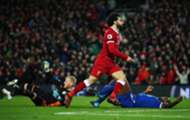 Liverpool managed to overturn a 1-0 deficit against Leicester City to win 2-1 during the 21st week of the Premier League at Anfield this week.
The Reds reached to their 41st point of the season, moving into the top four behind Manchester United by 3 points and 2nd placed Chelsea by 4 points.
It was the electric winger Mohamed Salah who helped Liverpool get back to winning ways in the second half with a brace, upping his fellow Arabian opponent Riyad Mahrez.
There is no longer any doubt that Salah is Liverpool's star with 17 goals to his name. The winger proved his ability once again in breaking defences, as he relied upon his great ability in dribbling and positioning himself in attacking positions smartly to face Schmeichel on more than one occasion.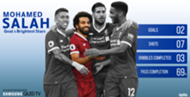 The former Roma star lit up the right flank in the second half as he used his darts behind the defence to receive the ball and slide it into the net on two separate occasions. In the first goal he used a fake shot excellently to trick the goalkeeper, and in the second he relied on speed and accuracy to get one up over his opponent.
The 25 year old succeeded with 4 dribbles and 7 shots, highlighting his desire to test the opposition goalkeeper and get the important goals for his team.
He struck a great partnership with his teammates in terms of swapping positions and building attacks and led the comeback against Leicester City, proving to be the most important player in this Liverpool side. If he ever is injured for Liverpool, he will be a big loss to the side.