Super League
Goal February & March MSL Team of the Month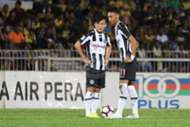 Because only one Super League (MSL) round is scheduled to be played in March, Goal has chosen to combine the February MSL Team of the Month with March, and it has been a glorious month for attackers and forwards.
Unsurprisingly, the best defenders and the goalkeeper of the month was chosen from the side that conceded the least in the six rounds; Kedah and Johor Darul Ta'zim (JDT). Both sides conceded only four goals, although JDT played only five matches. The Red Eagles had the steady partnership of Australian centre back Zac Anderson and Khairul Helmi Johari to thank for, while the Southern Tigers. The other defender picked is JDT's Azrif Nasrulhaq, who now plays ahead of Fazly Mazlan, even though the latter is the more natural in the left back position. The Malaysia international doesn't bomb forward as much seeing as he's in an unfamiliar side but because of that, has become a good defensive shield on the left for the Tigers.
In the midfield positions, four players have been selected; Pahang's Syamim Yahya, Kedah's Liridon Krasniqi, JDT's Afiq Fazail and Perak's Hafiz Kamal. Syamim has proven himself to be a bedrock of Pahang's midfield, taken on the transformation from winger to central midfield with aplomb, is a good reader of the game and has the defensive nous to succeed there. Young midfielder Afiq meanwhile has managed to usurp Amirulhadi Zainal in the starting XI. He's calm on the ball, while his better distribution from deep is also one of the reasons why JDT boss Benjamin Mora prefers him. Hafiz meanwhile has settled in the Perak's midfield now as one of the first choice. His passing game sets the tempo for most if not all of Perak's attack.
Predictably, two of the forwards selected for February and March are from the top two teams in the standings. Kedah's Ken Ilso Larsen and Pahang's Matheus Alves both scored six goals, but the player with the most goals is surprisingly from a team that is not even in the top five. Kelantan's Mohammad Ghaddar scored back-to-back hattricks in the Red Warriors' latest two matches, and combined with his goal against Felda United in February, the Lebanese has collected seven goals in the two months. More amazingly, Kelantan have only played five matches, as compared to the other teams' six.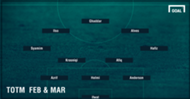 The MSL will now give way to the FA Cup third round and international break, and will continue in April.