Manchester United
'Give Pogba a break!' - Giggs demands Man Utd fans to cut midfielder some slack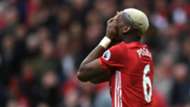 Ryan Giggs has demanded Manchester United fans give Paul Pogba a break following the continued pointers to the midfielder's world-record transfer fee paid by the club.
Xabi Alonso announces retirement
Having left Old Trafford to join Juventus in 2012, United chiefs were forced to fork out £89 million to recoup the Frenchman's services; a fee that has so far overshadowed his performances for the Premier League club.
United legend Giggs believes it is unfair to judge Pogba on the price paid by the club, and is in no doubt he will bloom into the world-class player that he has the potential to be.
"I have never seen a 23-year-old midfield player dominate games for a whole season," he said at a press event this week.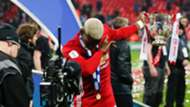 "So, the £90 million that they paid is obviously what people focus on and what people talk about. He will become a brilliant midfielder, there is no doubt in that
"I think he scored seven or eight goals, again, not many midfielders at 23 will do that... but because he cost so much, he is compared with that price tag when actually, he has done okay this season.
Move over, Messi, it's Neymar's night!
"Okay, not brilliant but not really bad. So yeah, I think a lot people should cut him a bit of slack."
Pogba has made 25 Premier League starts for the Red Devils this season, scoring four and assisting three.