Arsenal
Giroud hopes for new Alexis & Ozil deals soon
Olivier Giroud hopes Alexis Sanchez and Mesut Ozil follow his lead by penning new contracts at Arsenal.
Mourinho's transformed Man Utd must not repeat Alamo act
The France forward joined Laurent Koscielny and Francis Coquelin in committing his long-term future to the Gunners after impressing for them of late.
The swiftness of his new deal is in stark contrast to Alexis and Ozil, with talks dragging on and the stars' futures at the Emirates Stadium unknown.
However, Giroud remains optimistic that the situation surrounding his attacking team-mates will soon be resolved.
"Obviously we hope they're going to do the same but it's up to the player," he told Sky Sports. "I really wanted to sign another contract and I don't know what they want, but hopefully they will do it soon."
The 30-year-old's exploits of late are in stark contrast to his form at the start of the season, with the target man playing second fiddle to Alexis in attack.
Things have taken a dramatic turn for the better of late, nevertheless, and Giroud has netted three goals in his last three games for Arsenal.
Why Zidane is right to bench Ronaldo at Real Madrid
And the striker insists that his future at the club was never in doubt despite his initial difficulties, affirming his rapport with manager Arsene Wenger.
"I wanted to carry on the adventure," he continued. "I'm very glad to sign a new contract.
"It's been a few months that we've been talking about it; I'm happy it's happened. I feel good in this Arsenal family and I want to win some more trophies.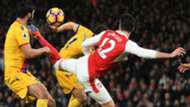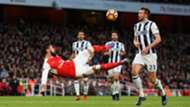 "We needed to wait a little bit. We said we'd see after the Euros and then I had my injuries but it's nice that's I've signed it.
"I needed to understand why I didn't play and it was clear between us [Giroud and Wenger]. I'd been injured, I came back a bit late from the Euros and the team did well.
"I was waiting for my time but when you don't play you need to keep the faith, keep working hard and that's what I've done.
"I'll always try to give my best - that's my motto - and when I came back, I tried to give everything for the team."