Arsenal
Gilberto hoping Arsenal midfielder Torreira can have same impact as Kante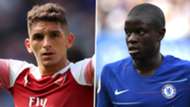 Gilberto Silva believes Arsenal midfielder Lucas Torreira "makes things easy for himself" on the pitch and is hoping he can have a similar impact to that of N'Golo Kante at Chelsea.
Many have suggested that the Gunners have failed to replace former defensive midfielder and World Cup winner Gilberto after he left the club in 2008, with the likes of Mathieu Flamini, Francis Coquelin and Mohamed Elneny all featuring.
Torreira arrived from Italian side Sampdoria for a fee in the region of £26 million ($34m) after an impressive World Cup campaign with Uruguay and Gilberto is hoping that the north Londoners have finally found the perfect player to protect the back four.
"I watched him [Torreira] in the World Cup," Gilberto told Goal.
"He did a very good job. If you see the way he plays, he plays the game very simply, he makes things easy for himself on the field.
"He gives protection to the back four and support to the guys up front, he tries to find the best spot to be in. The protective instinct is very natural for him.
"Before he arrived none of the other players were the kind who would sit in front of the back four. It's a hard job, not everyone wants this job."
Kante's success for club and country emphasises that height can have little relevance in the modern game, while Gilberto hopes that Torreira can replicate the Frenchman's top-class performances in the Premier League.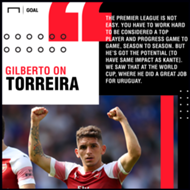 "Of course, you have Kante at Chelsea," Gilberto added.
"He's a small player. It's about how smart they are to play in this position, to find the best ball to give, play nice and simple."
When asked if Torreira can have the same impact as Kante, Gilberto replied: "I hope so. The Premier League is not easy. You have to work hard to be considered a top player and progress game to game, season to season.
"But he's got the potential. We saw that at the World Cup, where he did a great job for Uruguay.
"Not only this position but football has changed a lot. The way it's played, the passion of the Premier League, it's totally different from 10-15 years ago but you have to try and adapt."