U17 World Cup
Ghana U-17 star reveals possible destinations after World Cup exploits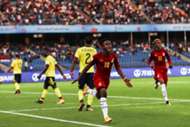 Ghanaian winger Sadiq Ibrahim says he has attracted interest from Spain following the 2017 Fifa Under-17 World Cup in India.
The Right to Dream Academy prodigy was unarguably one of Ghana's star performers at the global showpiece as the Black Starlets reached the last eight.
He took little time to announce his presence on the big stage as he netted the only goal of the 1-0 win over Colombia in the tournament opener.
"I have a manager to guide me through my career path," Sadiq explained, as reported by the Ghana Guardian.
"He decides what is best at a particular time. I have played against several [lower] division sides already with my team and I have some experience. 
"I like to explore the Ghana Premier League but because of financial reasons, I will prefer a move out of the country.
"There has been some contact from teams in Denmark, U.K, Belgium and Spain, but nothing is finalized yet. 
"My manager is in charge."
Sadiq left India an unfulfilled man as Ghana fell short of achieving their aim of winning the World Cup following a quarter-final defeat to Mali.
Nonetheless, the 17-year-old is grateful for the chance to show the world his quality.
"Not every footballer in Ghana has had this opportunity although it is every player's dream," Sadid said.
"It depends on your hard work and what you want to achieve in your life. 
"For me, I just dreamt of it and worked hard towards it. 
"The opportunity was big for me and it gave me the chance to show who I am and make my country and area very proud. 
"I am really happy I had the chance to show my talent to the world."
Sadiq has had training stints with Danish side Nordsjaelland, who hold an affiliation to the Right to Dream Academy.