Africa Women Cup of Nations
Ghana not under pressure to win 2018 Africa Women Cup of Nations, says Hayford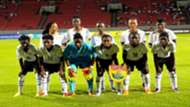 The Black Queens, who are three-time finalists, achieved a third-place finish in the last edition.
"I don't think we are under any kind of pressure to win the trophy ahead of the tournament," Hayford told TV3.
"I think the reason is that I know what I can do as a coach so the players are not feeling any uneasiness but they will do their best.
"It is the first time Ghana will be hosting the competition and we're preparing very well. If the opportunity comes for us to win we will do our best," he added.
Meanwhile, Ghana striker Janet Ayeiyam has expressed her delight to be part of the provisional squad that is preparing for the competition and has promised to give out her best.
"It is a privilege for me to be part of the team. The tournament will be played in Ghana so we will make sure that what prevented us from achieving our target in 2016 won't be repeated," she said.
"We want to qualify for the World Cup so making it into the last four will be good for us. We will pick it from there and I promise to give out my best for the country when given the opportunity," she added.