Milan
Gattuso: My work is to be the players' nightmare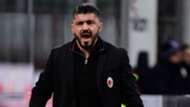 Gennaro Gattuso heaped praise on AC Milan after their win over Sampdoria but he refused to dwell on the result, insisting his job "is to be the players' nightmare until the end of the season".
Milan extended their unbeaten run to 10 matches across all competitions thanks to Sunday's 1-0 victory at home to Sampdoria in Serie A.
Giacomo Bonaventura proved to be the difference, his 13th-minute goal seeing Milan close within seven points of city rivals and fourth-placed Inter.
"I will always remain heart and grit. The credit goes to the lads, as they just needed a spark to get them inflamed," Gattuso told Mediaset Premium .
"I see a real sense of belonging and the greatest satisfaction a coach can have is to see his lads do everything he asks. After that, it becomes credit to them. They are the protagonists and I merely propose ideas.
"I want the players to run under the Curva to salute the fans, as it's right that they do that without their coach. They are doing so well and right now it's easy for me to be their coach. Tomorrow, however, is another day and we start from scratch. My work is to be the players' nightmare until the end of the season.
"I didn't expect anything when I arrived, I just knew I'd been handed a hot potato. I like to suffer, I don't enjoy things that are too easy, so I chose Milan because this is my home. I wore this jersey for 14 years, it's a part of me. Working here is wonderful and we'll see how it ends."
Milan favourite Gattuso replaced Vincenzo Montella in November and the tenacious Italian has overseen an upturn in fortunes at San Siro.
There's a Jack in our pack and it's the winning card!
Read the match report: https://t.co/C5ZFmd9lh9
Jack è l'asso nella manica! 
Leggi il match report: https://t.co/OrTFq46FCV #MilanSampdoria pic.twitter.com/Ipg6dGKCkv

— AC Milan (@acmilan) February 18, 2018
The Rossoneri are in the semi-finals of the Coppa Italia, while they also boast a 3-0 lead over Ludogorets following the opening leg of their Europa League last-32 tie.
Leonardo Bonucci, who arrived from Italian champions Juventus amid much fanfare, lauded Gattuso post-match.
"Since Gattuso arrived, we've changed completely," Bonucci told reporters. "A team has been formed, we are in better shape and it's all down to him. We've made a huge leap forward and now must continue like this.
"Gattuso has given us a mentality, a sense of belonging and fitness levels, basically everything we'd been missing. We weren't a team before him, we were also lacking physically. We worked to become a unit."
Bonucci, who struggled after moving to Milan, added: "I took some of the responsibility off my shoulders and found myself again. Gattuso did help me in that sense too. He took on a lot of that responsibility.
"At the start I was wrong and focused too much on everything that was around me, thinking I had to rescue the club, but it's a team effort and about working together. There is a long journey ahead of us.
"The coach did well to press the right buttons, giving back confidence to those who felt they were cast aside or not performing the way they expected. He convinced us that Milan could not be what we'd seen in those first few months and gave us new ideas."