Gabriel Barbosa
Gabigol is back! Inter's €30m flop on fire as top scorer in Brazil
South American Football Writer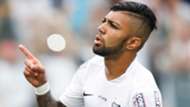 They were the twin saviours of Brazilian football, two angels named Gabriel who were set to take the Selecao to heaven and back with their scoring prowess.
Gabriel Barbosa – better known as 'Gabigol' – and Gabriel Jesus had grown up on different sides of Sao Paulo's fierce football divide, with Santos and Palmeiras respectively, but both were tipped for stardom when in 2016 moves to two of Europe's most prestigious clubs beckoned.
Indeed, many experts thought Gabigol would fare better at Inter than Jesus at Manchester City, at least at first. A year older than his fellow Olympic Games gold medallist, the Santos wonderkid arrived in Italy with 150 competitive games under his belt and more than 50 goals, as well as four Brazil caps in which he had hit the target twice.
By comparison, Jesus had a mere 80 games behind him when, six months after Gabigol's transfer in January 2017, he completed his move to the Etihad Stadium. But while the teenager made an instant impact on English football, scoring seven times in 10 Premier League outings to quickly become a fan favourite at the Etihad, his friend was sinking without a trace at Inter.
Even allowing for the scant first-team opportunities he received at San Siro, his time at San Siro was a catastrophe. Forced to effectively serve as Mauro Icardi's understudy because of a rigid system with only one central attacking role, Gabigol made just nine substitute appearances for the Nerazzurri and had to wait until February for his first and only goal in Inter colours, the winning strike in a 1-0 win at Bologna.
A season-long spell on loan at Benfica in 2017-18 proved even more disastrous. Once again frozen out of the first team, he made just five appearances before the Portuguese giants cut short his deal.
Gabriel was forced to make a humbling return to Santos in January 2018, the club he had bid farewell to a mere 18 months earlier in order to conquer the world.
Even back at his old stamping ground, it took time to shed the cobwebs. Gabriel was no longer the star attraction: 17-year-old Rodrygo was now taking all the plaudits.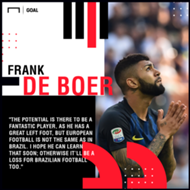 But Gabriel kept his head down and kept plugging away. While his first 20 games of the 2018 Serie A yielded just seven goals, leaving Santos languishing around the relegation zone, his next 13 outings have seen him hit the net 10 times.
With his scoring touch and confidence back, the forward has contributed consistency and goals to an otherwise mixed Santos campaign as Rodrygo has naturally struggled to produce his best on a week-in, week-out basis.
Gabigol leads the Serie A scoring rankings with 17 goals and a strong finish to 2018 could yet see Santos push their way into unlikely contention for a Libertadores spot once again.
Perhaps not surprisingly for a young man who since his early teens has been told that he is destined for greatness, it was Gabigol's attitude that caused friction at Inter. Frank de Boer was left bitterly disappointed with the experience of coaching the aspiring superstar.
"He thought he was still in Brazil and would walk rather than run," the Dutchman stated. 
"He wanted to receive the ball without running into space. He didn't understand that he had to train hard. It's no coincidence that with me he practically never played for Inter.
"The potential is there to be a fantastic player, as he has a great left foot, but European football is not the same as in Brazil. I hope he can learn that soon; otherwise it'll be a loss for Brazilian football too."
For his part, Gabriel has no regrets over his time at Inter, to whom he is slated to return at the start of 2019 if Santos or another club do not come in with a suitable bid.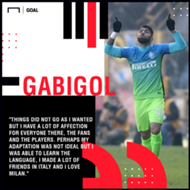 "They are a great team and I was very well received," he said to Marca in October. "Things did not go as I wanted but I have a lot of affection for everyone there, the fans and the players.
"Perhaps my adaptation was not ideal but I was able to learn the language, I made a lot of friends in Italy and I love Milan.
"But the team was not doing well at that time and the coach preferred to use players with more experience and not take a gamble. But I learned a lot, picked up experience and I hope they do well this year."
Who knows, then, what the future for Gabigol will hold? His prospects at Inter look distinctly unpromising: as well as the immovable Icardi, current boss Luciano Spalletti has added Argentina hotshot Lautaro Martinez to his ranks, pushing the Brazilian further down the pecking order.
Santos, meanwhile, are frank about their prodigal son's future, admitting that they would struggle to pay the €20 million Inter would demand to make a permanent move happen.
Encouraged by Rodrygo's imminent move to Real Madrid, Spain is a possible destination for Gabigol too: "I would love to play in La Liga. If I get the chance one day I would be very happy."
The end of the year will surely bring more clarity on that next step for Brazil's forgotten wonderkid.
For now, though, he is thoroughly enjoying his return to form at Vila Belmiro, proving that even if his first European adventure ended in ignominy he still has the talent – and, at 22, more than enough time – for another chance at stardom across the Atlantic.