Manchester United
From sixth to sixth - but Man Utd ARE making progress under Mourinho!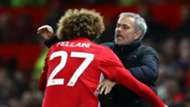 ---
COMMENT
---
"Monday's cup opponents are enjoying a long unbeaten run in the league stretching back to October," said Chelsea's official website of Manchester United this week. "It has lifted them all the way from sixth to sixth."
Don't compare Kante with Pogba, says Conte
It was a clear dig, a nod to the Blues' superiority over Jose Mourinho's side – and everyone else – in 2016-17. But Chelsea might do well to remember the first part of that statement every bit as much as the second part.
When the two teams come head-to-head in Monday's FA Cup quarter-final clash at Stamford Bridge, Chelsea obviously go into the game as huge favourites. They are runaway Premier League leaders, leading Tottenham and Manchester City by 10 points, are 17 clear of United and have had the benefit of a longer run-in to this fixture while the Reds were travelling to Russia and back for Europa League duty.
But this is most certainly a different animal to the United team which lost 4-0 on its last visit to Stamford Bridge in October. They will be without the suspended Zlatan Ibrahimovic, injury victims Wayne Rooney and Anthony Martial, and the ill Marcus Rashford, making their task even tougher against Antonio Conte's in-form Blues, but to dismiss their recent form on the strength of their unchanged league position is to underestimate the strides made under Mourinho in the last three months.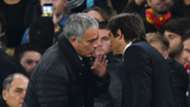 Having at one stage been 10 points off the top four, United are now a couple of game-in-hand victories away from breaking into the Champions League spots. Indeed, since early December only Chelsea have picked up more points than United. Their slip-ups have continued to come largely at home against lesser opposition as a result of failing to convert chances, but in terms of team-play and spirit they have shown up much better than in the early part of the season.
The bottom line is that this is finally starting to look like a Mourinho outfit. They play a greater brand of football than some might normally associate with teams managed by the Portuguese, but they have also developed the toughness and durability of a typical Jose side.
Even missing an entire forward line, they are not to be taken lightly by Chelsea. The use of Marouane Fellaini as a striker might be one route for Mourinho to take in light of his four high-profile absences, but there is also the possibility of using Henrikh Mkhitaryan as a 'false nine'.
The addition of the Armenian last summer looked set to be one of United's better moves during a transfer period which also featured the arrivals of Paul Pogba and Ibrahimovic. But after an initial spell which saw him struggle when chosen and then overlooked for months, Mkhitaryan has become one of the main features of United's upturn in form.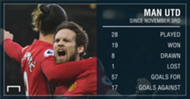 And while it is their attack which looks most impressive, they have managed to stave off countless question marks over their defensive quality to produce a hard edge in the back-line. Almost regardless of the personnel in their own half, United have become a difficult side to break down. Since leaving Stamford Bridge with their tails between their legs in October, the 20-time champions have conceded just 19 times in 31 games.
Monday will be the biggest test yet of the new-look United, not just because of the identity of their opponents but also due to the timing of the fixture. Given the long trip involved in their first leg against Rostov and the Champions League carrots dangling in front of them in the Europa League and the Premier League, suddenly the FA Cup has become the least important of their three remaining targets this term.
Of all of their remaining fixtures – and there are a lot – this is arguably their least important. But yet it also gives them an opportunity to showcase the more stubborn, durable side of their character which Mourinho loves his teams to possess.
Conte: I want to be like Mourinho
It may be top against sixth, and it might well feel as though United have been stuck in the same league position since the days when dinosaurs walked the earth, but there is a different look about them these days.
You may have to look beyond the league table to find it, but a new Manchester United is emerging.