UEFA Champions League
From benched to brilliant again: Sane scaling new heights under perfectionist Pep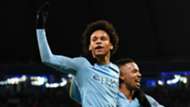 Pep Guardiola clearly wasn't happy.
He'd been forced into a line-up that had an unfamiliar look about it. Manchester City have a number of injuries currently and a pretty congested fixture list. With qualification to the Champions League knockout rounds already secure, Wednesday's visit of Hoffenheim was an opportunity to give starts to certain players who might feel they won't be called when Pep needs to decide on his ideal XI.
That's why Phil Foden was in the team for his first European start of the season. John Stones was at right-back in order to give a little break to Kyle Walker. But it wasn't working.
City have taken their time to get going in some matches this season – not least a couple of weeks ago here at the Etihad against Bournemouth. The way they were playing against Hoffenehim was disjointed. When you'd expect to see runs from Walker on the overlap or underlap for that matter, Stones wasn't far enough up the pitch.
When they wanted the midfield control that a David Silva or even a Fernandinho can bring, Ilkay Gundogan and Foden weren't delivering.
Guardiola is a perfectionist and even if he didn't have a full supply of players, he still wanted a performance. Hoffenheim, though, with their impressive coach Julian Nagelsmann came to town with more than survival in mind.
Their Champions League campaign had already been extinguished but that didn't hold them back. The Germans more than held their own against City and earned a deserved lead through an Andrej Kramaric penalty.
Some Leicester City supporters might struggle to recognise the Croatian international, signed to much fanfare after they won the league in 2016, but who delivered little. He is well on his way towards becoming a very useful forward at Champions League level.
Joelinton was also impressive, carrying the ball upfield and making waves. City were staring down the barrel at the break but were given one last opportunity before they went inside.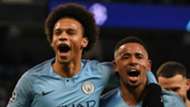 A free-kick outside the Hoffenheim area with Leroy Sane standing over the ball. The ability to strike a dead ball has not been classified as a Sane speciality and the competition to take one around these parts when everyone is fit is fierce.
But the way he got the ball up and down over Oliver Baumann's wall was stupendous and gave City a parity they did not necessarily merit on the balance of play.
They had hit the bar twice with headers – through Gabriel Jesus and Nicolas Otamendi – which suggests that Guardiola might be able to rely on set-pieces if his Plan A ever malfunctions but they weren't their usual dominant selves. That changed at half-time, though, thanks to Sane, and City were much better, much more themselves after the break.
Raheem Sterling – the subject of so much media scrutiny this week – was electrifying. He led one counter-attack which produced a chance for Sane, who opted to feed Bernardo Silva instead of shooting for himself and saw the attack wasted.
But City were not going to squander a similar opportunity shortly after. Sane and Sterling combined fluently, with the German knocking home goal number seven in all competitions this season. It was evidence that when City need a bit of star quality he can provide it.
The season started with Sane still seemingly bewildered by his omission from Germany's World Cup squad. Pep admitted as much and the signing of Riyad Mahrez pushed the 22-year-old down the pecking order. He had to come up with proof that he was worth picking. And to his credit he has done that.
He isn't currently playing like an option; he is playing like a bonafide starter again. His confidence is flourishing and his contributions accurate.
He was the guest for City's pre-match press conference where, along with queries about Sterling, Sane was asked about his future. He signed for £37 million in 2016 from Schalke and agreed to a five-year contract.
Talk has already begun to centre on an improved deal with fresh terms agreed by City with the likes of Sterling, David Silva, Sergio Aguero, Ederson and Kevin De Bruyne recently. Sane didn't disclose too much, revealing only that a new deal was possible.
He said he felt at home at City and he's certainly playing that way. It looks like he has learned his lessons from his dropping earlier in the season and has again become the player Pep demands him to be.