KPL
Fresh wrangles loom at AFC Leopards as Mathews Opwora 'takes over' as club chairman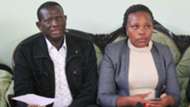 Persistent wrangles at AFC Leopards could resurface once again after former chairman Mathews Opwora 'took' over the club's management.
Opwora now claims that he has taken over the club on an interim basis after the current office, led by chairman Dan Mule failed to hold elections in accordance with a directive by the Sports Registrar, who gave them 90 days to convene fresh elections.
According to Opwora, the interim office was constituted by AFC Leopards' extraordinary meeting held on October 20 at the Railways Club.
The interim office, according to Opwora, will assume full management of the club for the next three months until elections are held in January 2019.
The 'caretaker committee', Opwora says, will undertake the hiring of a new coach after Rodolfo Zapata parted ways with the club. Opwora added that the elections will be open to all paid up members.
"Th interim committee will be required to adhere to the law of natural justice and the Kenyan constitution which bestows the sovereignty of the nation onto the people.
"Paying members of the club should not be denied a chance to elect their leaders as it is their democratic right."
Opwora aded, "The new team has a 90 day mandate to meet the requirements of the Sports Act as directed by the registrars letter of May 24, 2018, including but not limited to the review of club constitution, to comply with the new Sports Act and hold elections within 90 days from the date of assumption of office."
Opwora has also called on the Ministry of Sports and the Sports Registrar to order for an independent audit of the club financial accounts even as he claimed that AFC Leopards owe players and the technical bench "millions in unpaid allowances."
"We call upon the outgoing office to cease from interfering with the operations of the club henceforth and provide a smooth transition to the interim office."
The interim committee consists of Opwora (chairman), Susan Wamalwa (Secretary General), Moses Wanami (Treasurer), Oscar Kambona (Committee Member), Noah Wanyama (Committee Member), Katiambo Simiyu (Committee Member) and Suleiman Angulu (Committee Member).