South Africa
Fresh twist as Mumble reveals there's another candidate to coach Bafana
South Africa Chief Editor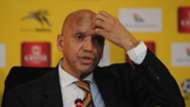 The Next Bafana Bafana Coach saga just seems to drag on and on. 
This has not been the first time that Safa suggested the coach will be revealed soon, only for the whole process to go back to the drawing board at the appointed time.
On Thursday Safa's media communications head Dominic Chimhavi confirmed that the deal for a new coach is done.
"We've finalised everything and pen has been put to paper. The announcement could be tomorrow or any time from now. It's just a matter of calling you guys [the media] to the official announcement," Chimhavi told the Sowetan newspaper.
The problem is that contradictory statements occur because they're coming from different individuals. 
On Friday when the official announcement was expected, it is Safa's chief executive Dennis Mumble who's interview indicates that the process is in fact not done yet. Even more surprising, Safa's made it clear that even now, Stuart Baxter is not the only candidate. 
For Mumble to reveal this at such a late stage, means that Safa may have had a late problem in negotiations with Baxter. Either that, or they simply prefer a second candidate.
"We have never said that we are talking to only one person. We have to make sure that we have alternatives and that's what we are working on now'" Mumble told The Times.
"I can't mention names but there is more than one person we are talking to and it is something that we really have to try and finalise as soon as possible."
"We have been pushing every day hoping that we would be able to make an announcement but our problem is that there are some things or a couple of obstacles that we must overcome'" he said.
"We have been talking to under-contract people and that is one of the difficulties that we are facing. I am leaving the country on Saturday and I am hoping that by then we could do something.
"Every day we go in with the hope that we can finalise something but it has been a little bit difficult because of contractual arrangements.
"We are not going into this with our eyes closed' so we are looking at other options to make sure that we give the country the best possible coach."
So, Mumble's quotes reveal a number of points. The big one is that Safa might be able to land a better coach, as indicated in his quote, 'the best possible coach.''
The point about contracts doesn't matter because we already knew that Baxter is contracted and SuperSport would only allow him to leave at the end of the season anyway.
With Mumble hoping something would happen on Saturday, it is of course a complete contradiction of Chimhavi's quote on Thursday.
This underlines that it's best to simply wait for the official confirmation from Safa before making a conclusion just from one official's point of view.