Republic of Ireland
France, we are coming for you! Ireland finally have the chance for revenge for 'Hand of Henry'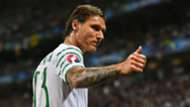 ---

COMMENT 
---
More than most countries, Ireland is somewhere that history is ever-present in the collective consciousness. It is a country whose culture is built on writers and poets, which just this year marked the centenary of a failed attempt at independence. Irish history is full of narratives like Easter 1916: small but memorable triumphs scattered between long periods of disappointment and oppression. 
Irish football history echoes that of the nation's: with Wednesday's 1-0 victory over Italy entering the pantheon of great Republic of Ireland results alongside 1988's win against England, 1994's 1-0 shock against Italy, and 2001's qualifying victory against the Netherlands. However, these good memories are weighed down by many crushing defeats, of which the 2010 World Cup qualifying playoff with France rankles more than the rest combined.
Thierry Henry's handball allowed France to progress to the World Cup, and although just five of the current Republic of Ireland squad played in that infamous clash in Paris, the history of it lingers greatly over all of the 2016 panel. Boys in Green boss Martin O'Neill asserted before Sunday's last 16 clash that his players 'have decided to forget about it', but the crushing disappointment of being cheated out of a major tournament will spur his players on.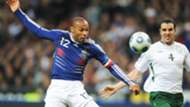 Seven years have passed since Henry's handball set up William Gallas's winning goal, with the Irish and French having avoided a competitive fixture until now. In the intervening period, O'Neill has replaced Giovanni Trapattoni as Ireland boss, choosing to utilise a less conservative approach to tactics than the Italian, with this boldness and bravery sealing Ireland's place in the knockout stage.
France disappointed at the 2010 World Cup, but are the favourites to lift the European Championship on their home soil, meaning Sunday's encounter will be an entertaining spectacle. When Ireland knew they needed to win, they did exactly that against tournament contenders Italy, and can repeat the feat in Lyon with a strong showing against Les Bleus. History has often cast Ireland in the role of the plucky underdog, and they will relish this moniker as Martin O'Neill directs his players into battle for another must-win game.
The Boys in Green have a perfect blend of experience and endeavour, with younger players like Jeff Hendrick and Shane Duffy announcing themselves on the world, and Glenn Whelan and Wes Hoolahan showing the passion and desire that has been a trademark of battling Ireland performances since the Jack Charlton era.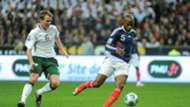 Whelan played both legs of the playoff in 2009, and will be hungry for revenge in 2016. The tournament is likely to be his last, and having failed to impress in the same competition four years previous, he will be determined to write his name down in Irish football folklore.
Euro 2016 has already added Hoolahan and Robbie Brady to its sporting annals, but against France at the Parc Olympique Lyonnais, more players can etch their names in history, demoting the Henry handball to a footnote of times forgotten.
Goal journalists are powered by the Samsung Galaxy S7 and Gear 360