Editor's diaries; the Void Decks of Singapore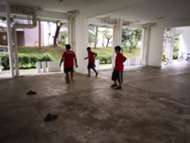 It was on the eve of National Day and there was a massive game happening down at the Jalan Besar stadium. Truth be told I was running late and was in a mad rush to make it on time. Home United were playing Philippines side Ceres-Negros in what was one of the biggest games of the season.
Home had the chance to be the first Singaporean side to clinch the AFC Cup. Long story short, all of us knew what went down there as history was being made.
But as I was walking as fast as I could to the bus stop, along the way I saw a sight that forced a smile on my face. It was a sight that was as Singaporean as it got and I felt a surge of memories race through my mind, notwithstanding the added greater connection I felt to my country.
Under a housing void deck tucked away in the far corner I saw a group of young boys playing the beautiful game. In an age where smartphones reign supreme such activities had been reduced to almost extinction.
For every Singaporean boy who loved football, most of us would recall starting out playing the game under the bright lights of the void deck. It didn't matter if the void deck possessed the sign which says you can't play your football there, the beauty of being a child was that legalism was something we never bothered with.
Conversely as kids our creativity weren't bounded by any political doctrine. For example if we didn't have a goalpost, our footwear would be used to act as one. Indeed the void deck was our sanctuary for most football loving Singaporeans.
It was here where we would practice our tricks and flicks without anyone ordering what and what not to do. Moreover there was unity in diversity when playing football under the void deck. I recall how as a child I would have Chinese, Indian, Malay and Eurasian teammates on my team, playing together.
Little did I know how the void deck combined with the beautiful game was a great tool in breaking down racial barriers, more than any other political policy. Some of the greatest football stars such as Zlatan Ibrahimovic and Robin Van Persie have all mentioned more than once how they honed their skills on playing surfaces away from the pitch.
I would like to think our local stars too must've felt the same way about void deck football. As my phone buzzed jolting me to reality, I began to make my way away from a remnant of the past.
As I walked to my original destination, I began to think that if Brazil had their favelas and the Netherlands had Ajax academy to thank for churning out top talent, then we had our void decks to thank, for introducing the game to many young football loving Singaporeans.
Void deck football is uniquely Singaporean and my hope is that one day it will get the recognition of the role it played in acting as an unofficial nursery for local players. Maybe they can start by removing the 'do not play football sign' plastered at the top of its wall.