Kevin De Bruyne
FIFA 18 Ultimate 11: Kevin De Bruyne voted best attacking midfielder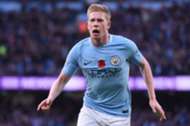 Manchester city's Kevin de Bruyne, has been voted as the best in his position in Goal's poll sponsored by FIFA 18.
The fans have selected the Belgian over Juventus star, Paulo Dybala, as he got 53% of the votes.
The Argentinian midfielder came second with 20% of the votes, and Arsenal's Mesut Ozil is third with 16%.
Spurs star Christian Eriksen is fourth placed with 6% of the votes, while David Silva is last, but not least, with 5% of votes.
Gianluigi Buffon was selected the best goalkeeper; Dani Carvajal was voted the best right fullback; Sergio Ramos won the best center back, and Marcelo won the best left back.
The midfield started with N'golo Kante winning the Center Midfielder position, while Modric won the best RCM position, and Kroos was voted as the best left Center Midfielder.