eSports
FIFA 18 ICONS: Which legendary players should I buy and how can I get them?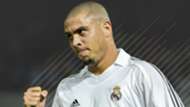 FIFA 18 has been on the market for months, meaning that most FIFA Ultimate Team players have built a strong squad or stockpiled plenty of in-game coins in order to buy some of the game's biggest stars.
When playing FUT Champions to compete in the Weekend League, gamers will come up against even stronger teams, many of which contain legendary players from the past. With the influx of highly-rated Team of the Week and special edition players, ICONS are now much more affordable for even the casual FIFA 18 gamer.
Deciding which ICONS to add to your team may seem like a difficult proposition, but you need to assess which player(s) will fit best in your favoured Ultimate Team squad and which ICONS you can afford to buy.
Although the ICONS represent particular stages of a player's career at different clubs, the in-game card does not have an assigned club, and instead provides a medium link with the players around them - and then a strong link when paired with players from the same country.
How can you get the ICONS, which ones should you buy and when will the final ones be released? Goal has all the answers to your FIFA 18 needs!
---
How can I get ICONS in FIFA 18?
---
EA Sports have released all the lower-rated ICONS already, but the highest rated versions, known as "Prime ICONS" are being rolled out at intervals throughout the season. As a result, some of the biggest names only have their lower-rated versions on the market.
Each ICON player has three versions, with the lowest-rated ones called "Baby ICONS" by members of the FIFA community. The three stages represent different periods in a player's career, such as Ronaldo who has a 90-rated version when he first broke through in 1994, then a prime version with a rating of 96 for his FIFA World Player of the Year win in 1996 and then a 2002 World Cup-era 94-rated edition complete with trademark triangle haircut.
Currently, the prime version of Diego Maradona is the highest-rated legendary player available in FIFA 18, with his 97-rated central attacking midfield edition available via packs or on the market as well as through Squad Building Challenges (SBCs).
All the available ICONS can be acquired via SBCs, but the high-end ones can be very expensive to complete and offer an untradeable version of the ICON. That means you cannot sell these players on the transfer market. The versions found in packs can be sold on the transfer market but are extremely rare. For example, prime Maradona costs around 10 million coins to buy, but the untradeable SBC version can be acquired for less than 3m coins.
---
Which ICONS should I buy?
---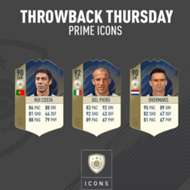 Two things should determine which ICONS you should go after: your current team and your coin balance. Being able to afford the ICON you want is key to determining whether you should attempt to acquire him. Also, if you are sure that you will keep your squad for the rest of the game's lifespan (i.e. until FIFA 19 is released), then you can go for the cheaper, untradeable version via the SBCs.
When the prime ICON SBCs are first released, they are accompanied by special limited-time SBCs which provide loan versions of the legendary players. This means that you can test out how they will fit into your team without having to spend hundreds of thousands to get them. You can then assess if they are worth the outlay.
The permanent ICON SBCs continue to be available for the remainder of the game, meaning you can acquire them at any stage or work towards them by completing the challenges one-by-one. Some of these challenges require special edition players to be submitted e.g. Team of the Week (TOTW) or in-form (IF) players. The highest-rated ICON SBCs even require lower-rated ICONs to be submitted. For example, prime Ronaldinho costs around 3m on the market, while his SBC comes in around 2.8m thanks to the fact that you need to submit three ICONS and five IFs to complete it.
As expected, Maradona and Ronaldinho play as well as you would expect their highly-rated cards to indicate, but many of the lower-rated ICONS are more popular and effective than their overall rating might suggest. Patrick Vieira's all-round ability makes him the perfect central midfielder, while Andriy Shevchenko is brilliant in attack despite the fact that his nationality makes him less appealing than Patrick Kluivert for country chemistry reasons.
Ruud Gullit and Rui Costa are both perfect midfield additions, while the prime Rio Ferdinand is possibly the best central defender in FIFA 18. Goalkeepers tend to be cheaper on the market, so Peter Schmeichel and Lev Yashin are both effective goalkeeping options for under 400,000 coins.
---
When will Prime Pele be released?
---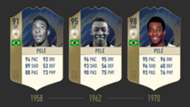 The most-sought after ICON in FIFA 18 is the prime version of Pele. Possibly the best player to ever grace a football field, the Brazilian has both 91- and 95-rated versions available currently, but his 98-rated edition has not yet been released.
With Maradona costing 10m, Pele is sure to cost the same amount on the market, but hopefully will be cheaper to attain via SBCs. Prime Pele will be released over the coming months, with early indications showing that FIFA 18 players could have to wait until May to get their hands on him.
There are also still some other ICONS which have not been released, but should become available in the next few weeks as FIFA 18 nears Team of the Season period, when the top squads from each of the big leagues are available in packs.
In addition, FIFA 18 is also expected to have a special World Cup edition download available ahead of the competition in Russia this summer, meaning all the ICONS will probably be available before the new tournament mode is released.