eSports
FIFA 18 fans point out Ronaldo Nazario blunder as ratings are released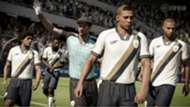 The release of player ratings for each edition of FIFA has come to be an event in its own right, with fans eager to find out what their favourite stars will look like on the game.
And game creators EA Sports put plenty of work into the ratings as a result to ensure they best reflect players' real-life abilities.
Football is a subjective topic, and there are inevitably disagreements and differences of opinion when it comes to the specifics of each player profile.
But there is one particular rating on this year's game that EA may have to rethink before release day later this month.
Fans have been quick to point out that Ronaldo Nazario, who appears as an 'Icon' on the game and even on the cover of the special Icon Edition, has only been given a four-star skill-moves rating.
I don't understand how R9 Ronaldo don't have 5* skill moves man xD

— NepentheZ (@NepentheZ) September 12, 2017
4* skill moves to Ronaldo? Really @EASPORTSFIFA?

— EnD FrancescoAngel (@xFrancescoAngel) September 12, 2017
That rating defines the number of tricks and flicks a player can pull off of those programmed into the game.
A player with five-star skill moves can do everything in the book, while a player with one star will struggle to even perform a stepover.
Giving Ronaldo only four stars is controversial stuff in itself for one of the most technically electrifying players in the history of the game.
But it's even more of a glaring problem when five-star skill moves are required to perform the 'elastico' (also known as the flip-flap) - a move that Ronaldo played as big a part as anyone in spreading around the world.
This isn't the first time EA has had this problem. Back on FIFA 11, they added a five-star skill move called the 'McGeady Spin' - and then forgot to give Aiden McGeady himself the rating required to perform it.
Luckily, they still have time before the worldwide release day on September 29 to correct the issue.
Let's hope Ronaldo gets the rating he deserves.